Ventura High School hosts third blood drive of the 2022-23 school year
ASB and the American Red Cross partner for VHS' quarterly blood drive
On March 1, VHS held its quarterly blood drive in the ASB room. The blood drives are typically held in the Main Street Gym, but this quarter it was held in the ASB room. The blood drive was open to not only VHS students but also general community members who wished to donate blood.
Former VHS student Dima Alawil has donated blood four times and often encourages others to do the same. Alawil said, "I came here for the blood drive. I already graduated from high school. When I was [a student here] every time [there was a blood drive] I would come and donate blood."
Anyone 17 years old or older is eligible to donate as long as they meet the weight requirements of at least 114 pounds. All 16-year-olds are required to have signed parental consent forms. Students who signed up got a call slip and were excused from class to go to the ASB room. Once arrived, students would check in and receive a sticker with their name written on it. 
Danny Cardenas '25 said, "It's my first time [donating blood]." Cardenas decided to donate so he could get out of class and because he felt donating blood helps people. His friend Sav Marin '25 did not donate but accompanied Cardenas. 
Marin said, "[Donating blood] is a very selfless act […] People are in need of blood, and it's a really good thing to do for people."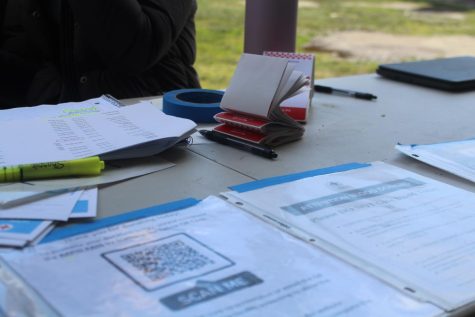 Seniors can also earn a cord at their graduation by donating blood three times. This was the reason for Ella Strong '23 donating blood. This was Strong's third time donating at the VHS blood drive. She said, "[The blood] goes towards the people that need blood […] it saves lives."
Jacqueline Nixon is an account manager for the American Red Cross and is responsible for helping plan the blood drive. 
Nixon said, "I work with the biomedical side of things. A lot of my role involves setting up the blood drives, making sure it runs smoothly the day of [the blood drive] and preparing and planning and doing meetings before." 
According to the ARC, donated blood is used for clinical purposes such as the process of blood transfusions, or it may be used to treat patients suffering from conditions like anemia. Blood transfusions are done for all kinds of reasons, predominantly in life-threatening situations, such as car crashes or various blood disorders. There is a large gap between supply and demand for blood. Currently, only about three percent of age-eligible people donate blood yearly according to the ARC.  
Nixon said, "I really wanted something where I can make an impact. I've had other jobs and careers where you're not making the difference that you want to make out in the world. It's really exciting to be part of [the ARC] organization and be a part of something that helps save lives."