Ventura High School's ASB collaborates with Black Student Union to educate students on black resistance and activism
 VHS commemorates Black History Month by decorating classroom doors with black figures who oppose the status quo
Black History Month is celebrated annually from Feb. 1 to March 1 across the United States, as well as in Canada and the U.K. It was first officially recognized in 1976 by Former U.S. President Gerald Ford, as a way to honor the often neglected accomplishments of Black Americans. 
This year's theme for BHM, determined by the Association for the Study of African American Life and History, is "Black Resistance." It aimed to create a way for people to recognize and acknowledge the racism, oppression and discrimination black people have resisted for centuries. February also focuses on remembering the more recent violent and devastating instances of brutality against black people. More specifically,  the January 2023 murder of Tyree Nichols at the hands of five Memphis police officers in Tennessee.
To involve students in BHM and spread awareness about the ongoing treatment of black people, ASB and BSU have organized an event and competition for VHS students to participate. Students can decorate their classroom doors in a way that showcases prominent black figures who have taken action to resist the status quo throughout history. Under the supervision of teachers, students have total creative freedom to honor the people of their choosing and reach the minds and hearts of fellow peers.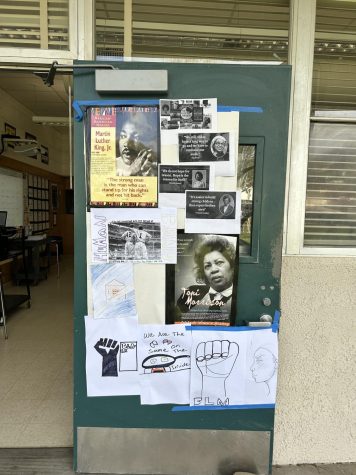 English teacher Greg Raney was one of the few to lead their classes in the decorations. He had many ideas about what he wanted to see on the doors.
Mr. Raney said, "I would hope to see some sort of message that causes people to stop and think and pay attention and wonder, and just leave them something to think about as they go about their day. Or maybe if they saw something on a door and were motivated to google something or check somebody's name or find out more about it."
The deadline for the decoration was Feb. 28, when ASB and BSU determined their favorite doors and awarded the first-place door a $100 wishlist for the class. By the time the decorations were to be completed, not many classes had completed their doors.
Eva Romero '23 said, "Participation is terrible right now, none of my classes [had] been participating. But I have a feeling some of the art classes [did] … [For reaching students,] I think it has the same effect as poster making and the bulletin."
As far as spreading awareness throughout campus and for students to bring home, others agree with Romero.
Raney said, "I don't think that our campus is quite aware of black history or aware of black culture as much as we might think we are, or hope we are. And I think there is always more that we can be aware of and learn. I think the problem of race and racism in America is still very much ongoing and I think that if we ignore it we're contributing to the problem."