"WHAT?!": another improv show?
Third student improv show of the year was held in the Little Theater
From 7:05 to 8:45 p.m. March 17 in the VHS Little Theater, 16 students performed at the first "WHAT?!" improv troupe spring show. The performers participated in 15 games across two acts separated by a 10-minute intermission, none of which they had any prior knowledge of. The show was presented by the VHS Theater Department under the supervision of department head Stefoni Rossiter, though drama class students created the games.
Act one included the first seven games of the show: park bench, revolving monologue, freeze, film critic, interpreter, song expert and scripts. Act two commenced following the 10-minute intermission. The act two games were storyline, soap opera, 3Peat, entrances and exits, ABCs, confessions, if you know what I mean and pocket lines.
Along with each game, Rossiter gave a prompt, which is a scenario in which the performers acted. Most games were played twice by different sets of performers, each time with a different prompt.
Eva Lechner-Hill '23, a performer, said, "Performing improv is just like joking around with your friends and it's a lot of fun." 
Cadence West '25, an audience member, said, "I really liked [the improv show]! My favorite game was film critic."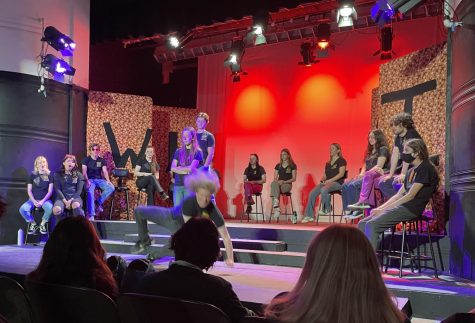 Performers had no assigned roles and were called to participate in the games at random. However, certain games mandated the participation of the entire cast. 
Micheal Leighton '23, an audience member, said, "I thought [the show] was amazing, definitely one of my favorites. My favorite game is easily if u know what I mean."
Quinn McMurtry '24, a performer, said, "I Participated in the spring improv because I love to make people giggle, if you know what I mean."
In concurrence with the show, house heads sold water bottles and VHS Theater Department-themed merch and collected donations on the main stage of the auditorium. The proceedings will contribute to funding the theater department, along with the admission ticket sales, valued at $5 per student attendee and $7 per adult attendee.
A second show will take place at 7 p.m. March 18 in the Little Theater. Some of the March 17 games may overlap with the March 18 show, but all the specific game prompts will be different.
Nick DeGeorge '24, a performer, said, "The show went very well and a lot better than most of us expected. It was a really fun time for all of us and I think we all enjoyed our second to last show together."