AVID fundraises for Syria and Turkey
The period two AVID class works to raise funds for Syria and Turkey
According to World Vision, a global Christian relief and development agency, on Feb. 6, 2023, a 7.8 magnitude earthquake and a series of strong tremors and aftershocks devastated the southeast of Turkey near its border with  Syria. Then again, on Feb. 20, southern Turkey was hit with another 6.3 magnitude earthquake. The death toll from these earthquakes and aftershocks has surpassed 47,000 and continues to rise. Hundreds of thousands of people are left injured and displaced across Turkey. Reports from World Vision have indicated that over 47,000 buildings have been destroyed or damaged.
On Feb. 28, Ventura High School teacher Terri Withers-Schroeder and her period two AVID class decided to take action. They were devastated to hear about the events that occurred and found that it would be best for them to fundraise for Doctors Without Borders. According to the Doctors Without Borders website, they aim to bring humanitarian medical assistance to victims of conflict, natural disasters, epidemics and health care exclusion.
Lorena Alvarez '23, an AVID student, said, "The AVID program decided to fundraise with Doctors Without Borders. Before we agreed to collaborate with the organization, we did our research and assured our donations would go directly towards supporting earthquake victims."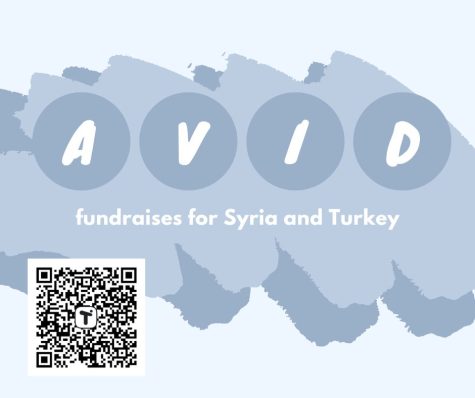 Doctors Without Borders is a non-profit organization that has been providing food, water and healthcare around the globe for the past fifty years. The organization takes donations in order to save lives and expand its care in crisis areas. From approximately Feb. 24 to March 10, AVID went to all period two classes to ask for donations. 
Withers-Schroeder said, "I have a student who's from Syria and I just literally watched her heartbreak when we were talking about the earthquake and just the overwhelming unfairness that that part of the world had to face. They've been hit so hard with so many things, they're already having a refugee crisis, been in civil war and then these giant earthquakes like four really big ones but then lots of aftershocks too and we just felt so bad that we thought how can we do something."
AVID made the fundraising a competition for all period two classes. The class that raised the most money won a breakfast party. The class that won the breakfast party was Cathy Solis' special academic instruction class, room 86. Although AVID made the goal to raise $7,000, they are yet to hit this goal. The competition for period two classes is closed, but people can still donate online through AVID's link.
Withers-Schroeder said, "Because we decided to go with Doctors Without Borders our link is still active and you can still donate, you just can't donate cash anymore. We would love it if people would continue to donate."