Irregular weather falls upon California
Uncharacteristic cold weather sweeps California
Ventura County along with surrounding areas has been experiencing unusual weather patterns including blizzard warnings, frost warnings, severe weather and flash flood warnings. According to CNN News, "An onset of severe weather across the west coast has spawned unfamiliar wintry conditions at higher elevations, particularly over mountainous areas of Los Angeles and Ventura counties, where up to a foot of snow may pair with 80 mph winds." 
The rare, unlikely weather has shut down many interstates, caused more than 120,000 power outages and stored a significant amount of flood threats in its wake. VHS was open for students to attend school during the crazy weather even throughout the various extreme weather warnings.
Emilia Reed '26 said, "I like it [the rain] but not school. I do not like being at school [in] the rain. It's annoying. My shoes get wet and I don't like that because I have to sit in class with wet shoes. I'm cold, pretty much, I'm just freezing. 
"It's crazy and also too wet for me. But it is nice for California because we've been in a drought for a long time," said Elsa Safranski '23.
Liam McFadyen '24 said, "It's pretty chill, the rain is pretty cool, it's pretty wet, and moist. Yes [it has affected my daily life], I can't swim because it's raining. I love drinking [the] water." 
Josue Romero '24  said, "I love the rain, I love being wet, it's awesome. [It has affected my daily life because] it gets me wet and I slip and fall. I can't go outside."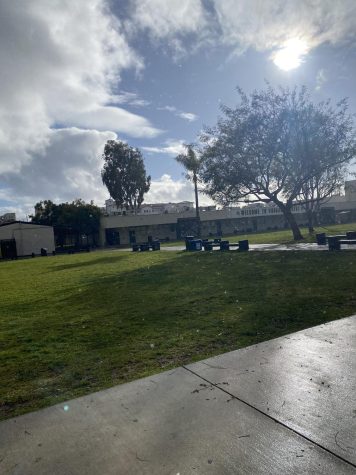 Areas near VHS also got unusual weather over the past month. Heavy rain and showers flooded the campus, leaving some of the students with the challenge of getting their shoes and socks wet. On another day, it began to hail for about five minutes before returning back to a light shower.. This is unpredictable and uncharacteristic for the likes of sunny California. 
All of this weather continues to sweep California with heavy rain all throughout March and well into the near future. 
Ana Avila '24 said, "I feel really happy actually. I really like this weather because it's never like this and I feel like this year it rained a lot."
According to the VCPWA Flood Warning System, Ventura County's rainfall percentage is already up to 124.1 percent, which is a 50.4 percent increase from last year's rainfall, which was a total of 74.1 percent, and it's only March.