New guest speakers coming to Ventura High School to inspire students for their futures
VHS college and career center holds a guest speaker series
The college and career center has kicked off its career speaker series that began on March 15 with Charles Su, a senior project manager for Amazon and a Yale University and VHS alum. He was the speaker chosen for the business and finance section. 
The speaker series will continue into April and May, with guest speakers from all different career pathways and their personal stories to share, like how they got to their position, what schooling they went through and what it took to work their way to their current job. Sign-ups for all sessions are in the college and career center, but once filled, there is a waitlist. 
Sonja Frias, a VHS counselor, said, "Ms. Roberts has developed a young alumni speaker series — meaning she has speakers who are previous VHS graduates that come to speak about what they are doing in the world with their careers."
The college and career center that is usually used for college guest speakers has now been shifted into career pathway speakers for the end of the school year and into the spring. The purpose for this is because not all students want to go straight to a four-year university. The college and career center thought it would be nice to appeal to all VHS students and offer guest speakers that can spark new interests in students.
Caroline Pulido, the college and career technician, said, "I figured we would invite guest speakers and have them talk about their experiences and their profession and see if there's anything students can take away for themselves." 
There will be a guest speaker for healthcare, film and entertainment, law, public safety, the beauty industry, information technology and the one that has already passed business and finance. With so many different career pathways, students can learn about what it takes to get to these jobs and if they could be a good fit for them.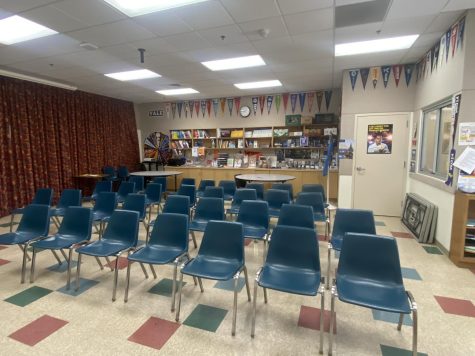 Healthcare will include Nox Espejel, a dental hygienist, and Miles du Mosch, a physical therapist, both in May. Public safety will showcase Jose Vargas, VC sheriff, and Casey Schroepfer, a firefighter, which will both take place in April. Also in April is Aspen Levitt, whose profession is in animation and film. The law, the beauty industry and information technology are all to be determined.
Pulido said, "I think it offers different experiences and no one's path is the same or linear so I think it's good to hear different stories and hopefully a story inspires a student to like to pursue that path."
"I think now and in the future [students can benefit from these guest speakers]. I think now it inspires students in whatever they're doing now. If it means finishing strong for this year or high school, that's great. In the future, [students should] be mindful of what they are working towards," said Pulido.