Women's History Month recognized at Ventura High School
The month of March is Women's History Month; how is VHS celebrating?
March is Women's History Month, where the women in history who have paved the way for the world today are honored. VHS has been encouraging students to learn more about influential women in history during the month of March. 
There have been several ways VHS has celebrated Women's History Month. One of these ways is through the daily school announcements slideshow. On the slideshow, there are one to two women featured each day, listing their impact and importance in history. Some of the women featured in the slideshow have been activist for female education Malala Yousafzai and 19th century mathematician Ada Lovelace. Due to the recently added communication course all students have on Canvas, they can now access the slideshow at any time, making it more accessible to go back and reread or learn more about the featured women. 
Another way VHS and the VUSD have celebrated Women's History Month is by putting together a website with resources for staff, students and families to further learn about historical women. The website has opportunities for viewers to look further into the lives and significant contributions of women in history, including links to videos as well as links to short stories about influential women. 
Principal Marissa Rodriguez shared a historical woman she admires. She said, "Mother Teresa had a heart of gold and never-ending empathy for people. She [was] fully devoted and committed her life to humanitarian work. Many of her famous quotes are centered around carrying out contagious acts of love/peace and service with small impactful acts."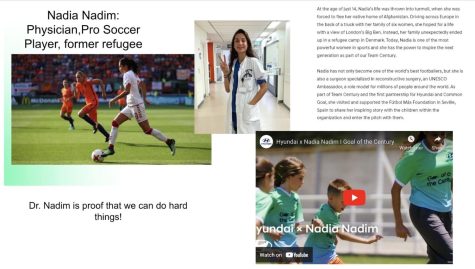 Carolyn Caulkins '24 said, "I would say Susan B. Anthony [is a woman in history I look up to] because her work in the women's suffrage movement helped pave the way to the 19th amendment in the Constitution, which gave women the right to vote. I think women having the right to vote is one of the most important changes in our history, and it's something that has helped women feel more empowered and confident in our own bodies." 
Women's History Month is a way to remind young women growing up of opportunities to make history as well. According to The White House, Women's History month is a month dedicated to celebrating women who have fought for equality, justice and opportunity in America. The month was dedicated to female trailblazers of the past, as well as the future.