Track and field costume themes for Cougar Quarters
Track and field athletes race to earn money for amenities
VHS track and field's main fundraiser for their season is Cougar Quarters. This year it took place on April 15. The main goal of Cougar Quarters is to raise money for the funding of the team, and the money is used to buy equipment and help the team cover the pay to enter some track meets. Last year it earned the team over $30,000. Cougar Quarters requires students to get into teams and choose a theme in which they dress up as and run two miles in. 
The themes this year were taken to the next level with groups going from track and field legacy to the coaching staff to even runners stereotypes. Each was announced and introduced to the rest of the team prior to running the two miles. After the two miles, a new tradition was started within Cougar Quarters — limbo with the high jump bar — which became a new favorite for some of the runners. After the limbo, winners were announced and followed with prizes. 
Parker Powers '24 led the "cougar weather" group. Her idea was based on the inside joke that VHS track and field athletes have to run in all weather conditions. Members of the group were dressed as sunshine, thunder and rain as well as many other weather conditions.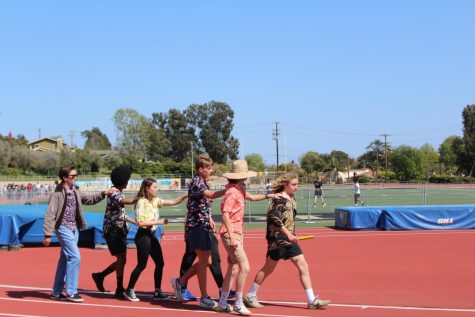 Powers said, "We raised over $5,000 and we raised the most money this year which is awesome. We were also the group to raise the most money ever so that was really exciting."
Cougar Quarters is a big deal to the track and field team because it is a fun event for them to raise money in a way that allows them to be creative. With creative costumes comes struggles to run as well. 
Amanda Lubbos '25 said, "It wasn't too bad for me to compete two miles in a dress but I know some other people wearing costumes or thick layers struggled a bit."
It is safe to say that some runners did struggle a bit more than others. The prom-themed group had runners like Chelsea Ochea '23 and Adeline Vertucci '26 who had to run in dresses that went all the way down to the ankles. The race car themed group had runners including Liam Genkle '23 and Nathan Lawler '24, who wore a decorated car made of cardboard that hung off their shoulders. One runner, Keegan Ostic '24, even dressed up as Cougie.