Symphony Orchestra and Wind Ensemble Honors perform
The two groups performed and featured various senior soloists
The VHS Symphony Orchestra and Wind Ensemble Honors performed during the Spring Concert Series II from 7 to 8 p.m. May 25 in the auditorium. It was the second of two concerts in the Spring Concert Series, with the first occurring on May 12. However, the Symphony Orchestra and Wind Ensemble Honors did not perform at the first concert.
The Symphony Orchestra played four pieces between 7 and 7:45 p.m., and each piece featured a senior soloist who played their respective instrument. After the orchestra's performance, the Wind Ensemble Honors played three pieces, with two featuring a senior soloist. The soloists went through a selection process before the concert. The final piece, "Give Us This Day" by David Maslanka, was not headlined by any soloist.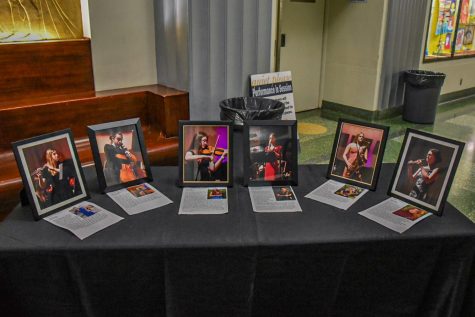 Ella Strong '23, a flute player, helped perform the first Symphony Orchestra piece, "Rondo" by Wolfgang Amadeus Mozart. Then, Aidan Connelly '23 on cello, Liah Kraft '23 on violin and Eva Lechner-Hill '23 on clarinet then soloed for the pieces "Adagio" by Edward Elgar, "Allegro" by Felix Mendelssohn and "Il Concerto" by Oscar Navarro, respectively.
As for the Wind Ensemble Honors, Reese Whitley '23, a tenor saxophonist, soloed during "Omnifenix" by John Psathas. Kate Fallon '23, an oboe player, then helped play "Legacy" by Navarro. Finally, the entire Wind Ensemble Honors played "Give Us This Day" by Maslanka.
Kraft said, "I have done a solo in the past, [but] for a different instrument, piano. [I would solo again] if I had an easier piece and I was more prepared. ["Allegro"] is not my style of music. I can't do fast pieces, only slow, pretty ones."
In addition to the music, the concert had a bake sale run in the foyer of the auditorium by the VHS Music Boosters. The proceeds will go to funding the music program at VHS.
The concert also had a table with photos of the senior soloists and text providing a brief insight into their musical backgrounds. These were repeated in the program pamphlet distributed to concert attendees.
VHS Music Director Paul Hunt, who conducted during the concert, said, "We gave [the soloists] a solo for seven years of hard work and labor [of being a musician]. They played very well."