Musical groups perform in auditorium
Three VHS musical groups performed nine pieces
Between 7 and 8 p.m. on May 12, the VHS String Orchestra, Wind Ensemble and String Orchestra Honors performed in the auditorium for the Spring Concert Series I. The VHS Music Department put on the event and offered free admission.
The first of two concerts, the Spring Concert Series I, featured nine pieces. First, the String Orchestra played "The Great Gate of Kiev," by Modest Moussorgsky, "The Abduction from the Seraglio Overture," by Wolfgang Amadeus Mozart, "España Cañi" by Pascual Marquina and "Fantasia on a Theme from Thailand" by Richard Meyer. Then, the Wind Ensemble played "Afterburner" by Randall Standridge, "Phantasmagoria," by Jeremy Bell, "Selections from Appalachian Dances," by James Curnow and "Exhilaration" by Larry Clark. Finally, the String Orchestra Honors played a single piece: "Violoncelles, Vibrez!" by Giovanni Sollima.
The final piece, "Violoncelles, Vibrez!" featured the String Orchestra Honors, including cellists Aiden Connelly '23 and Chloe Biondo '24. The orchestra's rendition of the piece was inspired by 2CELLOS, who performed their own rendition of the piece in 2012 and uploaded it to YouTube, popularizing the piece. 2CELLOS is a duo of cellists, and in their performance of "Violoncelles, Vibrez!" they played with an orchestra. Connelly and Biondo emulated their performance, being the only cellists performing the piece.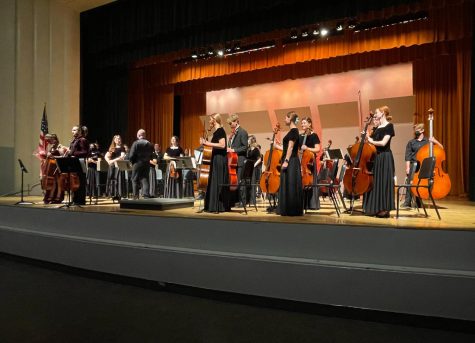 Caydon Thomas '24, an audience member, said, "I liked the String Orchestra Honors and the Wind Ensemble too. I thought they were great."
The purpose of Spring Concert Series I and II are to highlight the musical groups' progress throughout quarter four. While the concert was shorter than those earlier in the school year, the groups still played a variety of music.
VHS Music Director Paul Hunt, who conducted during the concert, said, "[This] was a crazy week with AP [Exams] and prom and all that sort of stuff. [Yet] they did really well. They kept focus. We always have [these concerts] at the end of the year. [They're] like the final project of the season. [The musicians] performed very well."
Connelly said, "We've been working on ['Violoncelles, Vibrez!'] for quite some time. So it was really nice to actually, you know, perform it and and we think it went well. So no complaints. It was really interesting to play and to learn."
The Spring Concert Series II is set to take place on May 25. The concert will feature the Symphony Orchestra and Wind Ensemble Honors.