He's a sophomore
Sophomore Andrew Ramirez is a student athlete, playing on both varsity basketball and baseball. Ramirez has been on both varsity teams since his freshman year.
When asked what he does when he isn't at school or practicing he said, "Basically all I do outside of school is workout and hangout when I can."
Since age ten, Ramirez has been playing competitive basketball, his dad being the reason he started playing.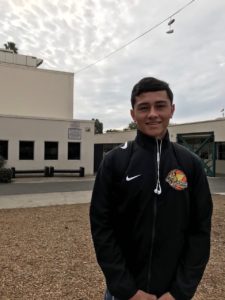 Ramirez's dad is a basketball coach for the Ventura College team. He said, "My dads a coach and I've been around the game ever since I was born."
Looking back on when he started baseball Ramirez said, "I didn't really like it at first. I wanted to stop but they said give it one more chance and look at me now."
He plans to go to college after he graduates. He has a few schools in mind, but his main goal is to get into college for free.
"Wherever I can get in so my parents dont have to pay. [I] just want to do what I love," adds Ramirez.
When asked who and what his motivation is he said, "My family. I want to give back for what they've done for me."