Caden Beeh: student by day, busser by night
Senior Caden Beeh works as a busser and runner at Rhumb Line – The Sunset Restaurant. Rhumb Line is a waterfront restaurant at the Ventura Harbor with fresh fish and local produce.
His job entails "setting tables, clearing tables, taking people's food and drinks, helping out the bar, and other little things", according to Beeh.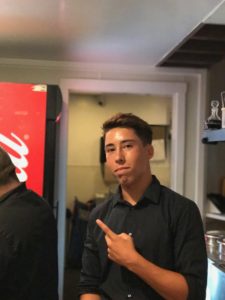 Along with balancing school and work, he manages playing on the VHS varsity soccer team, where he plays a variety of positions.
"Balancing soccer with work is actually pretty difficult because in the restaurant business you have to be able to work whenever you get put on the schedule," said Beeh. "If I can't work because of soccer [though] I have to find someone who can cover me. Most of the time, my work is really chill about my schedule and they help me out as much as they can," he added.
Along with Beeh, VHS seniors Brooke Newman and Nicole Andell along with junior Emmersen Moore work at Rhumb Line.