VHS Drama department raises the roof to raise funds
From Monday, May 7 to Friday, May 11, the Ventura High School Drama department hosted their fourth annual theater camp fundraiser. This year 32 kids attended the theater camp.
Monday through Thursday, attendees from first to eighth grade visited four different stations with the help of their guides. Throughout the week, they visited four stations: games, improv, play writing and musical theater. To conclude the week, parents were invited to watch their kids perform original plays they had written, as well as a dance they learned at the musical theater station.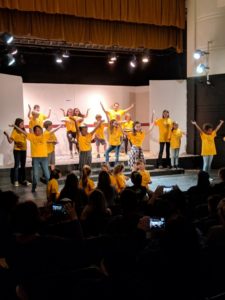 VHS Drama teacher Stefoni Rossiter said the kids learned "theater and improvisation games, a musical theater number to 'Be Our Guest' and they wrote and performed their own [plays]" throughout the week.
Sophomore Talia Walsh taught the musical theater dance along with senior Terra Bransfield. In response to how the week went, Walsh said, "I honestly thought the dance was going to be a disaster because everytime we rehearsed it, the kids could just not get through it without goofing off and running off stage, but I was pleasantly surprised and they did an amazing job performing."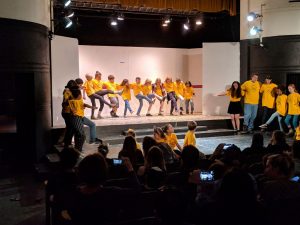 To help teach the kids and make sure everything went smoothly for their week at theater camp, several VHS Drama students helped make this fundraiser possible. According to Walsh, senior Andrew Welsh helped teach theater games, juniors Miles Bennett and Harley Gagnon helped teach improv and seniors Madison Secor and Courtney Caldwell as well as sophomore Lauren Sherman taught play writing.
In addition to the teachers of each station, Walsh added that freshman Jaidynn Sellers, sophomores Cole Campbell and Sophia Rocha, junior Ren Tallent and senior Aspen Leavitt helped the kids enjoy their week at theater camp by guiding them around.v