VHS Theater Department presents "What? Improv Troupe" in the VHS Little Theater
The improvised show allowed actors to perform unscripted
"What? Improv Troupe," also known as the Ventura High School Improv Show, took place between 7:05 and 8:37 p.m. Dec. 2 in the VHS Little Theater. The improv show opened its doors at 6:30 p.m., allowing people to purchase tickets for admission, which were $5 for students and $7 for adults. The first part of the show ran between 7:05 and 7:52 p.m., followed by a 10-minute intermission until 8:02 p.m. The intermission was followed by the second part, which occurred between 8:02 and 8:37 p.m.
"What? Improv Troupe," was under the direction of VHS Theater Department Head Stefoni Rossiter and the department's production. The improv show was the second VHS Theater Department show of the 2022-2023 school year after "Puffs."
Improv troupe captain and performer Sinthia Cardenas '23 said, "'What? Improv Troupe' has been planned since the end of last year. It is not as elaborate as the fall play or spring musical but still takes significant time on Rossiter's part and time in stagecraft to set the stage."
Improv show cast members participated in 14 games unknown to them before the show, hence the show's name. In chronological order, these games were "Park Bench," "Revolving Monologue," "Build Up/Build Down," "Film Critic/Storytelling," "ABCs," "If You Know What I Mean," "Interpreter/Jibberish Swap," "Scripts," "Song Expert," "Confessions," "3Peat," "Soap Opera/Superhero," "Storyline," and "Pocket Lines." The first part of the show contained eight games, while the second part contained six.
Rossiter controlled and led the improv games, though drama students created or influenced many. The improv show had a game show style format, with a ding noise denoting the end of a game. The performers had to produce scenes given certain prompts and situations.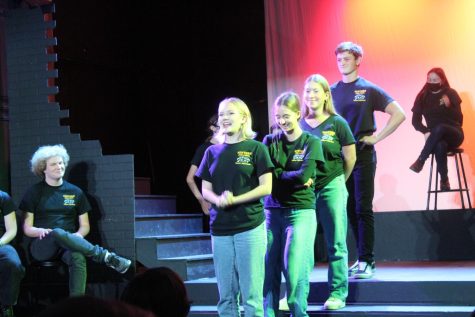 The games varied in their prompts and situations, though they all included only a few actors at a time, except for "Confessions" and "Storyline," in which the games had all available performers. 
"Storyline" prompted actors to get in a horizontal line across the stage and tell a story, with every person stating a word solely. The actors would say their words from left to right until Rossiter prompted the ding sound, which marked the end of the game. 
Among the 15 cast members who performed in the Dec. 2 show are Alex Aviles '23, Cardenas, Maja DeBoer '24, Lilia Duque '23, Joshua Field '24, Ari Goulette '23, Adam Hibberd '24, Noah Henson '26, Diego Ibarra '25, Eva Lechner-Hill '23, Quinn McMurty '24, Adrian Opolka '23, Reece Pickett '23, Emily Seva'Aetasi '24 and Mya Sherman '23. There were also cast members who worked as the tech crew.
The show's performers were a mix of people from drama classes, clubs and those who exclusively try out and participate in plays and musicals. 
McMurty said, "I thought the opening night went amazingly well. You can tell everyone is very comfortable with each other, and how people own their spotlight. Improv takes so much stress off your shoulders. There's no pressure in remembering your lines, you just go with the flow!" 
Ruby Strunk '24, an audience member of the improv show, said, "I thought [the] improv show was absolutely amazing. I was gasping for air the entire time, and I am so impressed with all the troupe members!"
There will be a second show at 7 p.m. Dec. 3. This show will include distinct games from the first.