Election 2018: state of the race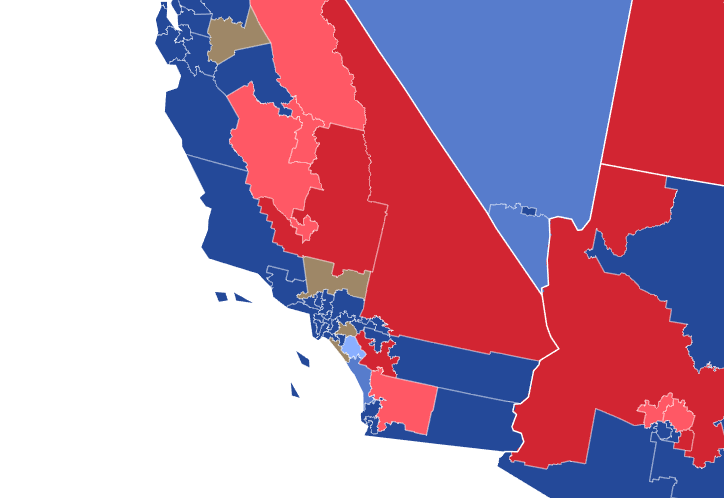 Sam Coats
October 19, 2018
As the 2018 midterm elections close in, the races for control of the House and Senate are shaping up to be hotly contested as Democrats vie to take back Congress from Republican control.
Democrats need to gain 23 seats in the House of Representatives to win control and two seats in the Senate. Republicans, who have controlled the House of Representatives since 2011 and the Senate since 2015, have enjoyed unified control of the elected federal government since President Donald Trump was sworn in in 2017.
Since then, the party has accomplished many of the policy goals they campaigned on, cutting taxes and cementing the conservative majority on the Supreme Court by confirming Justices Neil Gorsuch and Brett Kavanaugh. Many conservatives also point to the growing economy and President Trump's efforts to end North Korea's nuclear threat as reasons to vote Republican.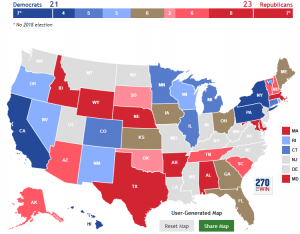 However, Democrats have plenty to campaign on as well. President Trump is historically unpopular, with his approval rating currently at 42 percent in FiveThirtyEight.com's weighted rolling average of polls. The "trade war" of increasing tariffs that the Trump Administration has entered with several foreign nations has had a detrimental effect on Republican popularity in farm states throughout the Midwest.
Additionally, liberal candidates are still attacking Republicans for their failed attempt to repeal key provisions of the Affordable Care Act ("Obamacare"), the repeal of which they argue would have increased the cost of healthcare and stripped many low-income people of their insurance.
Perhaps the defining feature of the 2018 midterm elections will be the disparity between the maps in the House and the Senate. In The Cougar Press's 2018 midterm forecasts, five of the 195 House seats held by Democrats are rated as vulnerable to a Republican challenge, while 95 Republican House seats have a reasonable chance of flipping blue. However, in the Senate, Democrats are defending 24 of the 35 seats up for election, and nine of those seats are vulnerable while only five Republican seats are. This could result in a scenario where, even as Democrats make major gains in the House of Representatives, they fail to retake the Senate or even lose seats.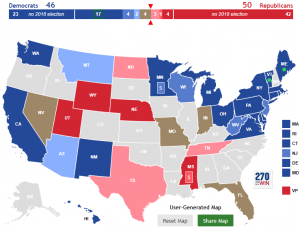 On a local level, most of the elections for Ventura's congressional elections are not expected to be particularly competitive. Democrats Julia Brownley, who represents the bulk of Ventura County, and Salud Carbajal, whose seats runs from San Luis Obispo down to West Ventura, are likely safe from defeat in their left-leaning seats. Senator Dianne Feinstein faces a challenge from State Senate President Kevin de Leon, who is running to her left, but he is trailing by 17 percent in the RealClearPolitics polling average of the Senate race.
As for the governor's race to succeed term-limited Governor Jerry Brown (D), Democrat Lieutenant Governor Gavin Newsom faces a challenge from businessman and Trump ally John Cox, but he has consistently outraised the Republican, and leads by 17.5 percent in the RCP average.