Opinion: Dress code, double standards, and slut shaming: Are they related?
Upon a quick Google search, the definition of slut-shaming given is "the practice of criticizing people, especially women and girls, who are perceived to violate expectations of behavior and appearance regarding issues related to sexuality."
Unfortunately, this seems to be experienced quite often at Ventura High School. A freshman female commented on this subject, but she wishes to remain anonymous because she does not want to be associated with feeling slut shamed, so we respected this in her interview: "People have given me weird looks as I walk down the hallway because of certain clothes that I am wearing, like a tank top that shows a lot of skin. It makes me uncomfortable."
Slut-shaming can stem from many situations, whether it is simply bullying, calling attention to a double standard, or commenting on how someone is dressed. One cause of slut-shaming in high school is based on how one dresses. This problem can be combated with VHS's dress code. VHS prohibits off-the-shoulder, low-cut tops, or shirts that display one's midriff. In addition, shorts must not be if they are shorter than mid-thigh length. But, many if not most students do not follow this dress code on a day to day basis. Looking around on campus, plenty of students wear "short-shorts" and shirts that show their stomachs, clearly violating the school's dress code policy.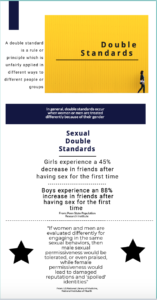 "Freshman year, one of my teachers told me that I have a problem with not wearing enough clothing," commented a junior female who also wishes that her name remain anonymous. Is breaking the dress code a catalyst for slut-shaming? "I've definitely broken the dress code before," she added.
In addition to slut-shaming, which creates victims that are of the female majority, there are also many double standards in regards to gender. Even our school dress code, which should help reduce slut-shaming by facilitating appropriate clothing has double standards. The majority of the rules stated in the dress code refer to female students clothing, with no specific references to any clothing that is male oriented. Is this because male fashion violates the dress code less often, or is the dress code not biased at all? The female students that we interviewed described the VHS dress code as "unfair" and "messed up."
As well as in the dress code, there are other situations with double standards at our school. At a regular sports practice at VHS, most team's allow their male athletes to remove their shirt when it is particularly hot out, but female athletes are not granted this same privilege.
When a girl is sexually active with several people, she is often called a "whore" or a "slut," but when a boy is sexually active with several people, he is dubbed a "player" or a "legend." Do you think that slut shaming and our school's dress code is based around a double standard?