Get outside: hike these trails
Many Ventura High School students enjoy hiking such as freshman Alice McCoy: "Hiking is so fun to do with your friend and also beneficial to your health!"

Webmd.com states that hiking has many great health factor including decrease of high blood pressure, lower risk of heart disease and boosts bone density. The area surrounding VHS is filled with accessible hiking trails. We compiled some of the top hiking trails best suited to different hiking preference.
Arroyo Verde is one of the most popular hiking trails in Ventura. Many VHS students enjoy Arroyo Verde because of the trails' range of difficulty, the dog friendliness, easy parking and easy accessibility. Freshman Jayla Remirez said, "I have gone to that trail since I was a little girl and [it's] one of my favorite hiking spots."
If you are looking for a wide ocean view, the Botanical Gardens is the place for you. With the view looking over downtown Ventura and the pier, this spot has something for every hiker.
Sophomore Alyssia Troutman stated, "I love going here with my friends. You can get there quick and it's great for taking pictures at the top."
Ojai Punchbowls, although is a short drive away, is for a more determined hiker. The end of the trail stops at a cliff with a running waterfall going down to  a swimming hole.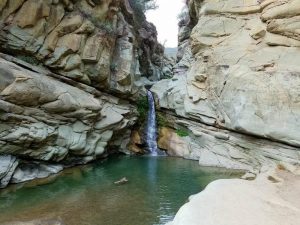 This two-hour journey through Ojai is quite popular with VHS students. Freshman Quinn Ferguson said, "I go here when I want a little challenge but at the same time a beautiful destination. It is so refreshing to swim there too!"
For an easy and casual hike, the Ojai Meadows Preserve is a great spot. In the spring, the field is covered in blooming flowers. Senior Kate Marsden commented on the hike: "It is a really pretty drive to get there, and the hike is not too hard. Also the flowers are so pretty for pictures."
A fun option for a day trip hike is the Lake Casitas Recreation Area. You can hike, camp and boat. This site has a large range of activities. Freshman Malia Gutierrez said, "I like Lake Casitas because there are lots of people, the trails are wide, and I can camp there after. The lake is super pretty too."
With this information in mind, next time you need to clear your head, pick one of these spots for a relaxing get away.