Is VHS ready for in-person learning?
Update on the potential reopening of VUSD schools
As we dive into the second quarter of the 2020-2021' school year, conversations of returning to campus have increased. Elementary schools within the district are planning on starting in person teaching towards the end of Nov. following the two weeks of Dec. and three weeks of Jan. Small groups of students have already gathered and have had very little difficulty regarding the individuals health.
Sophomore Jack Gordon commented, "I feel that I and many other students are having a hard time focusing and getting the same learning experience online versus in person." Gordon continued, "I know it would be very difficult to enforce the protocols for COVID-19 but I am hoping the students would be respectful and be grateful to be able to come back to school."
Music programs and dance team's are starting to collaborate in small groups that unfortunately cannot extend to clubs at the moment in order to maintain safe protocol. Many may have noticed or have been involved in preconditioning for sports at the moment. Football currently has recorded no positive cases and has proven to work very well but unfortunately we are unsure exactly what the season will look like just yet.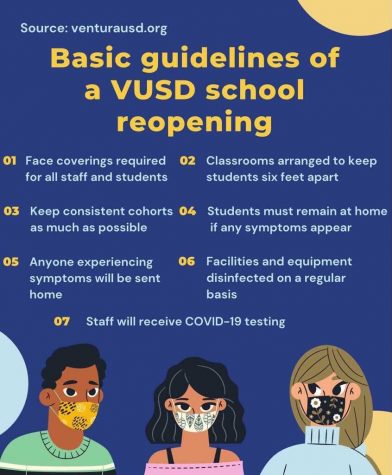 Ventura Unified School District's Board President, Sabrena Rodriguez shed some light when asked about the potential reopening of the campuses. Rodriguez shared, "January 26 is the first day of the second semester in which we expect kids to be back on campus, classrooms will be cleaned on a regular basis especially high touch areas." Sanitation will be available in all classrooms to ensure the health of staffers and students. "With the hybrid program, classes will only have half the amount of students, most likely divided by alphabetical order according to the last name of the student," Rodriguez added. She additionally mentioned that classes will be cut to three a day resulting similarly as a block schedule.
Jumping back to in person teaching we take the risk of possible outbreaks resulting in closures. When asked about the situation, senior Jordan Wagoner responded, "I am not interested in going back to school in Jan. I live in a very high risk household and I do believe students who do not think COVID-19  is not a big deal won't be wearing masks correctly or at all without staff repercussions." 
Junior Inman Costa is not interested in going back to school unrelated to health reasons. "I feel that my day online is five time easier than it was at school," Costa said. He also explained he feels as though schools run at high risk of spreading COVID-19  even if the necessary precautions are taken. 
For updates involving Ventura Unified School District, https://www.venturausd.org/