Serving back into practices
Boys and girls tennis practices are starting up.
Though quarantine has kept the majority of sports unable to practice, the Ventura High School boys and girls tennis teams were given the 'ok' to start practicing recently. There is still some concern about having practices right now however, sophomore Jack Gordon stated, "I feel good about going to them as long as everyone maintains social distance and wears a mask." The boys and girls teams do practice on separate days to make social distancing a bit easier. As of right now both boys and girls teams are practicing just once a week. A lot of players were unable to play for the past few months due to courts being closed but luckily they have the opportunity to play again.
All tennis players must wear masks to participate. They are also required to fill out a health form before every practice. The main goal of practices right now is to get kids back out on the court. In the beginning they weren't even allowed to touch the same tennis balls. That has been lifted thus making it easier for players to play. Majority of the practices players are seen playing singles instead of doubles to make social distancing easier.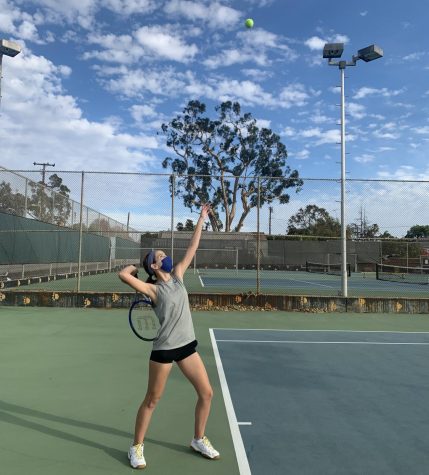 With the start up of practices, sophomore Bella Moga shared, "Yes, it was very nice meeting my teammates in person, and it was also very nice meeting the coach for the first time." The pandemic may have put a pause on playing actual matches with other schools, Moga stated, "I don't think we'll have a season from the pandemic." Moga stated that they do not think there will be a season this year. Gordon did express the same feelings, "I think tennis is the best sport to have a season because I think we're the furthest apart. But I'm thinking probably not because we're heading towards the purple tier."
According to sophomore Katie Rundle, the players were excited to play but everyone was still a little nervous. Rundle said, "I'm nervous about accidentally eating my mask while practicing." Rundle has been attending practices as frequently as possibly and shared her appreciation for practices starting up again.
With the new school year, Ventura High was also introduced to a new tennis coach, Alyson Mandle. Mandle so far has been working on what to do for practices. Mandle stated, "I love it so far, it's definitely an adjustment because I have previous experience coaching little kids, so this is my first time with a high school." Mandle expressed that she was happy practices were allowed because she was excited to meet the players. "I wanted to start with once a week just to make sure everybody was comfortable." As of now, there is not a set decision on whether there will be a tennis season this year.