VHS on the recall of Gavin Newsom
The petition to recall the governor has gained enough signatures, but what do VHS students think about him?
A growing group of Californians are beginning to support a recall effort against Governor Gavin Newsom, who is facing an impending recall. The petition in support of his recall has allocated over 2,060,000 according to recallgavin2020.com, which was last updated March 16, 2021. The only time in California history that a governor has been recalled was the 2003 recall of governor Gray Davis, where 55% of voters were in favor of the recall and voters elected Republican Arnold Schwarzenegger to be the next governor.
There are many reasons for recalling the governor according to the California Patriot Coalition and Rescue California, two of the organisations that are most involved in the recall effort. According to recallgavin2020.com, Californians should recall the governor because of  "His ban on the death penalty, restrictive gun legislation, the homeless crisis, the gas tax, and his hypocrisy on high-speed rail in California."
The website stoptherepublicanrecall.com was started in opposition to recallgavin2020.com. It was created by the California Democratic Party. They seek to counter the recall efforts' success. The website claims that the recall is "A partisan, Republican coalition of anti-maskers, anti-vaxxers, QAnon conspiracy theorists and Trump supporters."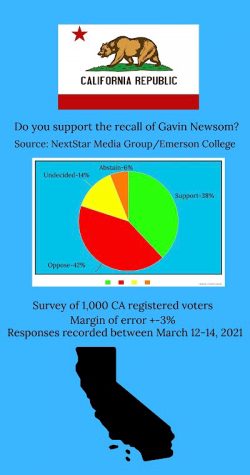 Among this, some of the reasons to not recall the governor are "The Republican recall will cost the state $100 million. The recall effort is backed by far right national Republicans who are Allied with radical and extreme elements… includ[ing] groups promoting distrust of government, science and medicine; peddlers of QAnon doomsday conspiracies; 'patriots' readying for battle and one organization allied with the far-right extremist group, the Proud Boys." 
According to a poll of 101 students, 54% of students support the recall and 46% oppose the recall. One of the supporters of the recall, junior Benjamin Burchett commented, "Yes [we should recall Gavin Newsom] because of immigration, the bullet train, letting criminals out, high taxes and nothing being done about it." 
There are also some students who are undecided. Freshman Gianna Nicole said, "I don't particularly have a side. He made a lot of mistakes with Covid but handled it pretty well." While undecided was not an option on the poll, 14% of California voters are undecided and 6% said they would abstain from voting in a recall election. This is according to Emerson College.
If the Secretary of State's office finds that there are enough valid signatures, 1,495,709 required,  then the recall election would take place 60-80 days after certification. For more information on the recall process, go on https://ballotpedia.org/Gavin_Newsom_recall,_Governor_of_California_(2019-2021).