Vaccines, the ongoing debate
The political debate on the topic of vaccinations and Ventura students' opinions.
The COVID-19 vaccination has been a controversial political topic discussed by many in the medical and non-medical world. Since returning to school, COVID-19 has infected eleven students on campus and infected 97 students in VUSD schools as stated from the Ventura Dashboard. Although documenting those vaccinated against COVID-19 was a complex challenge that the CDC faced, the solution was creating a national database allowing medical professionals, including VHS's nursing staff to access COVID-19 vaccination records. However, arguments have been raised over HIPAA (Health Insurance Portability and Accountability Act of 1996), and who is legally allowed to access these records. 
Ventura High School students are mostly in agreement that COVID vaccinations have become a political topic. 96 percent of students believe that politics have influenced the COVID vaccinations for most people in the United States. The remaining four percent say that is not true. When asked if they thought politics should influence whether people get the COVID-19 vaccine, 86 percent of the students responded with no. They felt that politics should not impact someone's medical decisions, compared to the 14 percent who disagreed.
A vaccination card is not the only way to prove vaccination status. A national database, known as CIR (California Immunization Registry), is where vaccination statuses are recorded, and only available to health service officials. California is now offering online vaccination records that are more accessible, myvaccine.org is one of these websites. It also automatically records the information of vaccination status, collecting vaccination data from around the country. 
VHS senior Chis Eggbert claims that he does care if students are vaccinated. "It doesn't affect me. The vaccine only affects the severity of COVID and not the transmission." Although there is an ongoing investigation to discover the full effects of COVID-19 transmission, according to this website "Science Brief COVID-19 Vaccines and Vaccinations," the CDC has found a growing amount of evidence stating that COVID-19 vaccines reduce asymptomatic infection and transmission. Eggbert also said, "I don't care if the school knows my vaccination status. It doesn't affect me; however, I would prefer they did not." 
Carson Peterson, a junior at Ventura, has a different opinion. "I think that everyone physically able to have vaccines should get them." Peterson said. "I have never felt unsafe when it comes to COVID. I think Ventura High has given us so many resources for safety that if anyone felt truly unsafe that the issue could be resolved quickly." 
Ventura High School has followed all CDC rules and precautions and Juliana Samonoff, VHS Nurse said, "We work together here, in this office," to protect our students.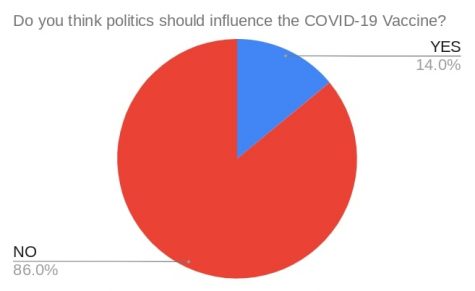 Gov. of California Gavin Newsom has recently set in place a mandate requiring COVID-19 vaccinations to be added to the current list of vaccinations mandatory for both students to come to school. COVID-19 vaccinations will become mandatory between Jan. 1 and July 1, depending on FDA approval for children aged 12-15. Although Pfizer has been FDA approved for 16 years old and older, Newsom does not plan on requiring vaccinations for them until younger students have complete approval. The vaccinations for 12-15-year-olds are under an emergency authorization, with the FDA moving towards approving it. 
The COVID-19 vaccination mandate includes both public and private school students. California will be the first state to enforce a mandate for the COVID-19 vaccine. Newsom's plan for the mandate is to allow parents to submit personal belief statements, reasoning why they would not want their child to be vaccinated. Religious and medical reasons will be taken as an excuse to exempt students from the vaccine. Unvaccinated students who don't submit personal belief statements will not be allowed to attend in-person school. Instead, school districts will offer online school or homeschooling for the students. 
Newsom said, "It is just another vaccine." Like Measles, Chickenpox or Mumps, public health officials, like VCPH (Ventura County of Public Health), will have the option to decide whether or not they will enforce this mandate. Gov Newsom tweeted, "This is about keeping our kids safe & healthy." 
Junior Liah Kraft says COVID-19 cases will be reduced once this mandate is put in place, "I always get a lot of emails about kids getting COVID from school…those number of emails will definitely go down." Kraft believes that VCPH should "Stay with what [Gov. Newsom] says and enforce that, so we can reduce the number of COVID cases and people getting ill because it sucks." Statistics show that unvaccinated people are eleven times more likely to die as stated in a recent NPR article, a CDC article relays that those who are not vaccinated are twenty-nine times more likely to be hospitalized, and college studies like the one at the University of Michigan have discovered that unvaccinated people are five times more likely to catch COVID compared to vaccinated people. Even with this information, the topic of vaccinations is controversial and can be challenging to discuss. According to VHS students, it has been turned into a political battlefield.