Varsity basketball coach Felix Cortez
Felix Cortez new position as varsity basketball coach
Felix Cortez is the head Varsity Basketball coach at Ventura High School. He started his basketball career at VHS playing on varsity for three years. He graduated from VHS in 1983, and then went on to play basketball for one year at Ventura College. He real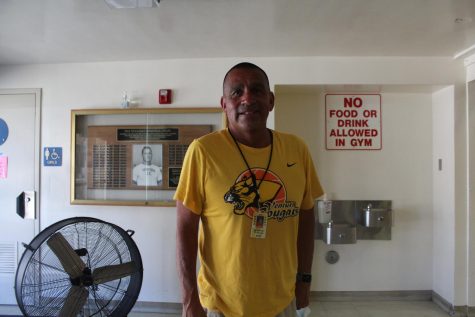 ized he wasn't as good as his teammates and decided to retire from playing basketball at VC but that did not stop him from loving the game. 
Three years after graduating he was offered a coaching position at VHS from his junior high coach. He then spent 35 years as a lower-level coach before being offered the head varsity coaching position this season. Cortez has spent many years coaching for VHS, he considers VHS his family. 
Two of his favorite memories from being a lower-level coach are the 2006 and 2011 CIF championships. "Well I guess maybe the two right off the top of my head are the two CIF champions, championships they were great, great experiences all the way through." said Cortez.          
Cortez looks up to Coach Larson the most. Cortez coached beside Larson before being offered head varsity coach. "I really look up to coach Larson, he's a legend and his legacy here at Ventura is going to be hard to fill." said Cortez. 
Cortez's favorite part of coaching is being able to teach his team. He said that being a lower level coach for as long as he was really helped him to teach the ways of the game. 
A student on the Varsity Basketball team, Jack Rose feels that the team had a little bit of a learning curve this summer adjusting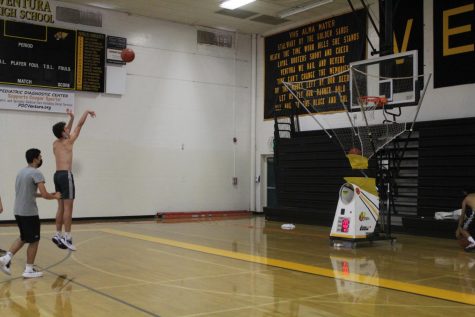 to Cortez's style of coaching but it has always felt productive. He feels good about moving forward this season as a team. 
Rose rolled his ankle multiple times last season and every time for almost a week at a time Cortez would sit and tape his ankle for him before practice. This was before Rose even knew that Cortez would be their head coach for the next season. This gesture Cortez did for Rose showed him that Cortez would always go the extra mile for him and truly cared for him and the team. 
Rose loves the energy Cortez brings to the court "I love the energy Cortez brings to the court, I can always count on him to hold me and the team accountable and ensure we are focused on the game." His favorite part of being on the team is coming to practice everyday and competing with his teammates to become better. 
Kayden Gonzales is also a student on the basketball team, Gonzales says,  "The way Cortez coaches just feels right." They make good memories everyday in practic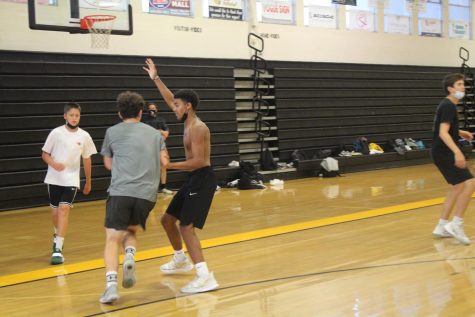 e that keep him striving. Gonzales truly feels that if he and the team give 100 percent effort they can make it to the CIF championships this year. His favorite thing about Cortez's coaching is that he lets them scrimmage against each other. He really feels it helps to build the team's chemistry. 
Overall Coach Felix Cortez is looking forward to this Basketball season. His team is looking forward to this upcoming season as well. They think Cortez has the right mindset to lead them to CIF this coming season.