To park, or not to park?
The scoop on the new parking permits.
On Feb. 1, assistant principal Elizabeth Botello sent out an email to students which said, "All students who would like to park in the 'Senior Parking Lot' for semester 2 must fill out the following Google Form." It continues to say that there will be a lottery for spots, "We have a limited number of spots available. Feb. 11th we will conduct a lottery with the names we have received. Seniors get priority."
Based on current respondents of the form, in her interview Botello said, "We have not reached capacity which is great because that means that everyone who wants a spot will most likely have one." A lottery might not be necessary at all based on the form's participation. "It's just a way to be more equitable and we've realized that it's easier to be more uniform with the other high schools (Foothill) so we're trying to make those best practices," said Botello.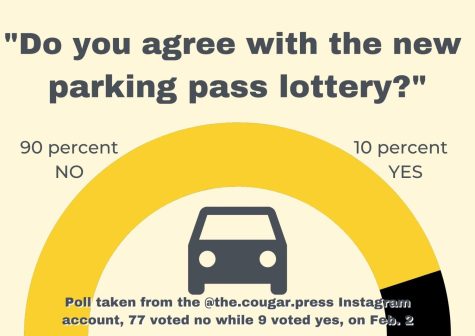 On Feb. 1 a poll was posted on The Cougar Press Instagram account (@the.cougar.press) asking, "Do you agree with the new parking permit system?" 86 responded, 10 percent  of pollers agreed while 90 percent disagreed. 
Senior Martie Pecht was one of the 77 voters that disagreed. "I honestly feel like having parking permits is not the smartest idea. It can really limit the juniors and especially the seniors to get parking spots. I think the lottery is good to an extent, but it may prevent people from getting spots that really need them," she said.
Botello made it clear that administration is not limiting the current available spots in the lot for student use, and that there are still over 200 spots. She said, "The lottery is a way to make it more equitable to all students no matter what grade level they may be who might need a spot."
Parking permits will stay the same as semester one, but with a new online organization to make it easier for administration and students. The other change is new colors of the permit stickers. 
Pecht said that if she doesn't get a parking permit she will end up parking on a side street, such as Poli, Seaward and Hall Canyon.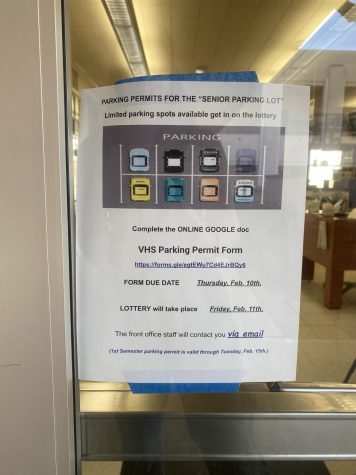 Sophomore James Rail said that he will also park on a side street, "It [not having a parking permit] will make me potentially late to classes and [I] will have less time in my day if I always [have] to walk off campus into the neighborhoods to go to my vehicle before and after school." 
Rail also disagreed with the new system, he said, "Although I do not love the idea of not being able to get a parking pass I understand there is an inadequate amount of parking for the amount of students in our high school. I think increasing available parking somehow is a must, possibly getting designated street parking from the city for students?" Despite his overall negative view on the new system he does acknowledge that he believes that the lottery is the best and most fair way to go.
A similar rule change happened in 2017, Avenlea Russian wrote an article for The Cougar Press titled "Parking permits change again." It reads, "The new parking permit system that was implemented last year, was designed to give seniors, who don't get lockers, priority parking passes designated for the lower lot, and juniors and sophomores designated parking permits for the upper lot." This semester's system is similar, giving priority to the seniors, but this semester's parking permits will not be organized based on the location of the parking lots.
"So were hoping its a win on all honesty and we haven't exceeded the number of spots we have so were really fortunate in that regard and then it's going to help us (administration) stay more organized and you know safeties number one of our students and were just trying to go by that as well," said Botello.