Café con los maestros in room 50
Counselor Francisco Castillo holds a café con los maestros session
On March 9 between 7:50 and 8:30 a.m. Ventura High School ELL (English Language Learner) counselor Francisco Castillo held a «Café con los maestros» session in room 50. Castillo plans to hold more sessions in the future, regardless of how many people show up. Prior to the March 9 session, a session was held in Dec. 2021.
Castillo said, "Café con los maestros is an opportunity for parents to come to the school to have coffee with us and chat. They can ask about what we're doing and ask about their students if they would like to. It's a way to get them [parents] comfortable on campus so that they'll come and be an active part of their kid's education."
Castillo came up with the idea of café con los maestros. He said, "We did it [café con los maestros] years ago and it worked out well. We thought we would try to revamp it and do it again this year with our new English language support team teacher Emily Bradvica. It's important for parents to know more than just one contact person on campus."
Sophomore Joaquin Benitez said, "I think that some parents don't agree with their kid's teachers but maybe students agree with both. There needs to be a place where they can communicate."
Students are permitted to attend with their parents. Castillo said, "The students are involved because they are the learners. This [café con los maestros] is for them too. Their voices and opinions need to be heard."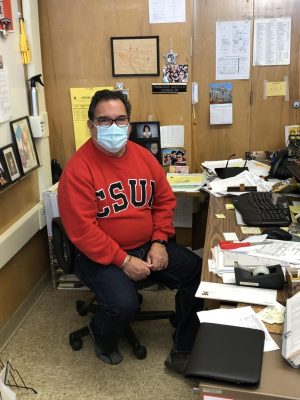 Castillo said, "It 's [café con los maestros] irregular. It is something we would like to do maybe every other month. We've been doing them after our ELAC [English Learner Advisory Committee] meetings and there are usually six of them. This year we are going to have more. We have been doing them the Wednesday after ELAC meetings which take place on Tuesdays. I would rather do these every other month whether there is an ELAC meeting or not." 
Castillo believes that café con los maestros provides an entrance for parents of students, particularly those of English language learners. He said, "It makes them feel like they can have a voice in their children's education. It provides a community and opportunity for bridges to be built and language minority students. Often kids who speak other languages or come from a different culture feel marginalized. Their parents sometimes feel like they can't come to school because it's foreign to them. It extends a hand to those who are in most need."
Castillo can be contacted at [email protected]. He is available for help between 7:45 a.m. and 3:00 p.m. every school day.