What does the future hold for face masks?
Will VHS students/staff continue to wear masks?

With the mask mandate meeting its end on March 11, the Ventura High School community will no longer be required to wear masks. This leads to another question, what is the future for masks? Will they continue to remain in common use or be quickly discarded?
According to a March 7 Google Form poll of 37 VHS staff members, 40 percent said that they would continue to wear a mask after March 11, 30 percent said that they wouldn't, 19 percent are undecided and 11 percent said "other."
VHS English teacher Elizabeth Mainz is unsure of the future relating to masks. Mainz said, "I am unsure whether this [the mask mandate lifting] is going to be a good idea or not. I am hoping many students will still choose to wear their masks to keep me and their peers and themselves healthy, but I will no longer be able to ask them to do so."
VHS teachers are not allowed to enforce mask mandates in their classrooms, meaning that teachers will have to contend with maskless students.
Auto Shop teacher Scott Hays said, "I think [that it's the right time to lift the mask mandate at VHS], I just hope we don't have an increase in infections. Just wondering if it might be best to keep it in place until the end of the year!"
VHS counselor Sonja Frias said, "We should just finish the school year masked up to truly get this [COVID-19] virus spread to end."
VHS students will have the option to go maskless with no repercussions, as well as the option to wear a mask without repercussions.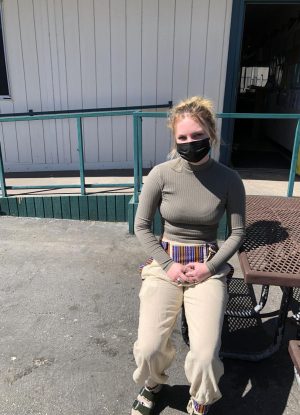 Sophomore Maja DeBoer said, "I'll probably keep wearing my mask for a few weeks at least, for personal reasons, but we'll see where it goes from there. As long as people still respect each others' decisions and personal space I don't think I'll have any issues with it."
The fall of the mask mandate leads to another question. When will students completely stop wearing masks? Or are they permanently a part of American culture? 
Biology teacher Nathan Donnelly said, "I would imagine that students will almost immediately stop wearing masks. I think most people would like to 'feel' normal again."
Sophomore Anneliese Maxwell will not continue to wear a mask. Maxwell said, "I won't continue to wear a mask because my family and I already had COVID-19 so we have the antibodies."
Sophomore April Boland said, "I think that over time most people will stop wearing their masks, but I honestly don't know."
Wearing a mask is still recommended by both the Ventura Unified School District and the CDC.