Should students be allowed to receive food deliveries?
Food deliveries from outside vendors are banned at VHS
Food delivery is a service that is currently dominated by DoorDash, Uber Eats, Grubhub and Postmates. They deliver to homes, businesses and in the case of Ventura High School, schools. According to the March 18 Ventura High School weekly newsletter, "VHS has seen an increase in students leaving class early before the bell rings to try and meet food delivery services on the perimeter of campus." 
VHS Principal Marissa Cervantes said, "Due to safety concerns with unknown adult contacts, our site has prohibited [food deliveries] from occurring. [Food deliveries] have not occurred at a high number due to the newsletter communications, bulletin slides and warnings issued. Most consequences have been warnings as well as advising drivers VHS drop offs will not be allowed in the future. Campus supervision assists with this as well."
The newsletter also said, "Admin would like to reiterate that food deliveries from outside vendors such as Uber Eats and DoorDash are not allowed. Please pack a lunch for your student or encourage them to eat a free meal at our cafeteria."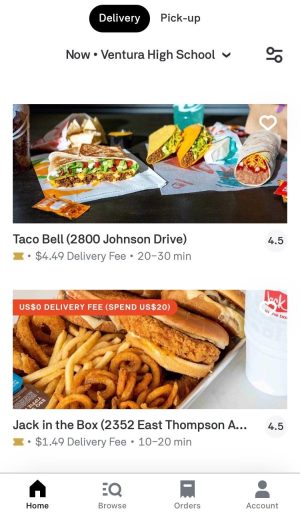 Senior Jackson LaTourette, who has ordered food delivery to school, said, "They should [be allowed to order food deliveries] because it's their money and they have the right to do so. It doesn't affect anyone else."
If a student wanted to order Jack in the Box from Postmates, it would arrive at VHS in approximately 10 to 20 minutes. If students ordered their food beforehand as the newsletter claimed, then students could receive food deliveries at the beginning of lunch.
Junior Isabelle Rivera, who has not ordered food delivery to school, said, "I think students should be allowed to order food delivery services. Especially lowerclassmen since they can't apply for an off-campus pass yet. Even as an upperclassman that has an off-campus pass, I would still order from food delivery services. I don't think it's a bad thing to have it ordered once in a while, but it could become a problem if it's constant."
Cervantes disagreed with Rivera. Cervantes said, "Food deliveries have not been allowed in the past, although parents have at times dropped off food for their students but it is not a past practice." 
Freshman Jubilee Cherry said, "I have never ordered food to school before but I believe students should be allowed to order food to school. I know lots of people find the school food unsatisfactory and un-filling and if someone doesn't have the time to make a meal for school, what are they supposed to do? I think that if they have the money and ability to order food to school, they should be able to. I think it would be a good idea."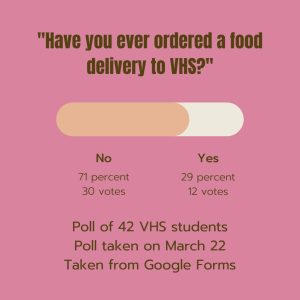 According to a March 22 Google Form poll of 42 VHS students, 98 percent of the respondents (41 votes) believed that students should be allowed to order and receive food deliveries on campus. The other two percent (one vote) had no opinion.
Rivera said, "I know in past years people have ordered from food delivery services and it was fine then. I don't see the need to change the rules at all since it is just food. Some people still might not be used to only eating at one point during the day either because people could eat whenever they wanted during Zoom times."