AVID helps students get to college
AVID seeks to improve college readiness at Ventura High School
Advancement Via Individual Determination (AVID), is a college preparedness class for students who would like to attend a four-year university after high school. The class is taught by Terri Withers-Schroeder, Francisco Castillo, Linda Bergfeld, Heather Miyata and Sonja Frias. 
According to the VUSD High School Course Directory 2021-22, "The main components of AVID are academic instruction, tutoring support for academic classes including honors/advanced placement course work, university field trips, and motivational activities including speakers, art projects, leadership projects, and cultural field trips. The program has a successful college attendance rate of 93% for students who are in the program for 3 years or more. It is designed to increase school wide learning and performance."
Withers-Schoeder said, "The purpose of AVID is to provide support and information to students who may not otherwise have it. Getting to college nowadays is a very rigorous, time-consuming, complex task. Additionally, there is now so much misinformation about college circulating freely on the internet. Ms. Bergfeld, Mrs. Miyata, Ms. Frias, Mr. Castillo and I together provide support to students to help navigate that process, be completely prepared for college and do well once there."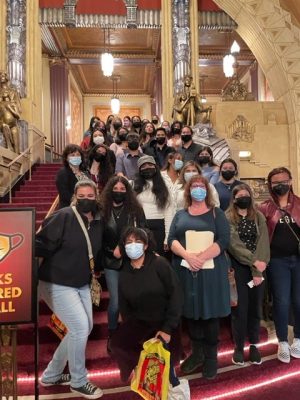 The class is open to all grades, with the intention of it being a four-year course. This means that it is intended to be first taken in a student's freshman year, with them taking it every year after until their senior year.
Sophomore Maya Luquin said, "I joined AVID to become more organized and gain more knowledge about four-year universities."
Withers-Schroeder said, "Every year, [grades] nine-12, we do something slightly different. For example we don't go over college applications with freshmen but we do them with seniors (and also it helps to prepare for them with juniors). The things we do every year are: tutorials, we hire AVID tutors who are former AVID students, now in college, to come back and tutor our students two to three days a week during class time; we take field trips and we do group activities like our AVID Shadow Day, which was last Wednesday, March 16. We hosted about 45 eighth-grade AVID Cougars-to-be.  AVID is both a lot of work and a lot of fun."
As of the 2021-2022 school year, there are about 130 students in AVID. The class counts as an applied art elective for high school credits, in addition to being a "G" class (college-preparatory elective) in UC/CSU A-G requirements. The class is held in room 126. 
Sophomore Leslie Martinez said, "AVID provides organization, helps you with any subject that you struggle with and support. I would definitely recommend AVID if you are looking for organization, support or help in any other subjects, and also want to go to college. AVID is such a great help and elective."
Withers-Schroeder said, "We do potentially have some room for freshmen and sophomores next school year. If anyone is interested, they can email me at [email protected]."