Calling all seniors: what's the sitch on applying to college with early action or decision?
As the school year progresses, more and more VHS seniors are receiving their early admissions letters 
As VHS' senior class prepares to begin their application process for their respected colleges and universities of choice, the first big step is deciding whether or not to apply with early action or early decision. The early action application window is typically between Nov. 1 and 15, with some being due as late as Dec. 1. Early action means that students hear back from their prospective schools sooner in the year, free of having to commit to a particular school before they're ready. 
Jillian Zollar '23, who applied to two colleges early action, said, "I definitely think early action is worth it because it shows your interest [in a possible school], but I would only do an early decision [application] if I was set, like that was my school. I didn't feel that way so I didn't do any [early decision applications]."
Compared to early action, early decision applications are binding. This means that if a senior is accepted to the college they applied to early decision, they have to attend that school based on a contract. These applications are typically due by the end of October, and students hear back mid-December. Applying for an early decision has benefits such as an increased chance of admission, earlier financial clarity, a secure spot in a highly demanding major and more.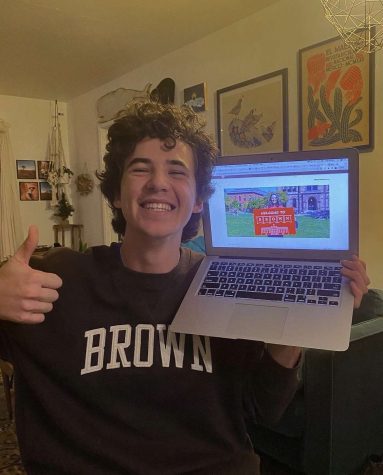 Mateo Navarro '23, who applied and got into Brown University early decision, wasn't always sure he wanted to go there. He said, "I didn't really know [if I wanted to go there] until the summer of last year when I did some research on it. I was like 'I should probably check out colleges and stuff' and Brown just came out as the top one because I like their curriculum and the campus is beautiful too."
Mya Sherman '23, who applied to USC early action, said, "I think it was a good choice for me because I was still able to devote a lot of time to it but I kind of got it out of the way so I could not be stressing about it any more and I could focus on other schools." 
"[Before committing to a school], envision yourself there and make sure that that's the place you wanna go if they accept you because obviously you can't go anywhere else after that. Make sure you're not doing it because of the prestige of the school… A lot of kids get into these schools and end up not liking it…because it doesn't fit them so make sure [the school] fits you," said Navarro.