Kate Duffey serves to impress
VHS' very own volleyball player, Kate Duffey, is on top of her game
"Kate is one of the most valuable players a team can have," said VHS varsity girls volleyball player Chloe Simpson '24.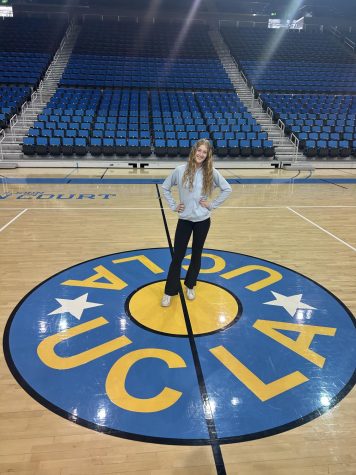 Kate Duffey '24 is a setter for the VHS varsity girls volleyball team. Duffey played as the team captain of the VHS team this year, only stopping due to a back infection that put her in the hospital at the beginning of the 2022-23 school year. However, after weeks on crutches, Duffey has been able to get back in the game and play for the majority of her junior season. Duffey has been playing since the seventh grade, and despite her injury, her hard work has proved to have paid off. 
On the VHS varsity girls volleyball team, they placed first all-conference and second all- county. 
Duffey also plays for a club team, City Volleyball Club. They have ranked fifth overall in southern California, as well as being named the Amateur Athletic Union Open All-American Team and Academic All American team. Duffey's club team has received an open bid to move on to USA Volleyball Nationals. 
Coupled with her two teams' achievements, Duffey has also received offers from several different colleges to play volleyball on their teams. These colleges include Oregon State University, San Jose State University, Loyola Marymount University and UCLA. As of May 12, Duffey officially committed to UCLA for volleyball starting in the fall of 2024. 
Simpson said, "She's so talented and one of the smartest players to come across. She is a supporting teammate and a leader. I can always look to Kate if I need help or in a rut."
VHS varsity girls volleyball player Sophia Sletten '24 said, "Kate's energy is unmatched to anyone I have ever played with before. Her being as good as she is also helps with her case, but she carries herself so confidently that it makes everyone around her play better." 
Duffey shared that her favorite part of playing volleyball is being surrounded by her teammates and playing in a competitive environment, allowing her to work hard and be successful. "[It] just makes me so happy to be out on the court," said Duffey.