On Nov. 1, Café Ficelle opened a new location across the street from VHS. It is located in Ventura on East Main Street. The opening of this new location was a "soft opening." This means it will only be open on a few days of the week for shorter hours until they have a "grand opening." The opening of the café began to spark interest amongst students, teachers and staff, making them intrigued to check it out.  
Café Ficelle owner Lyndy Woodruff said, "The building, when it was first built was a Fosters Freeze, that was back in the 1950s. Since then, it has been a few other businesses. When we took over the spot, we wanted to keep the integrity of the building intact. For example, keeping the walk-up window for our customers to utilize. We love hearing our customers come in and say they remember this spot being a Fosters Freeze and coming in for lunch when they went to Ventura High School. We even had a few people say they used to work at [this] spot when it was a Fosters Freeze." 
Café Ficelle is a bakery with pastries and other baked goods. The café serves products such as croissants and pull-apart bread. Coffee and tea are also available. 
Lauren Ulvang, English and Yearbook teacher said, "I'm really excited [about the cafe opening] because [Café Ficelle] has really good coffee that's really close to school. I really like some of their pastry items as well."
There are many students who have been to the other Café Ficelle location on Mills Road in Ventura and are looking forward to having a new café in a more accessible location. The other locations they have are in Camarillo and in Ventura.
"We are currently working on our fourth location that will be opening up at the end of the year. That one is going to be located in Thousand Oaks. After that
location opens, we definitely would like to open more, but we are in no rush," said Woodruff.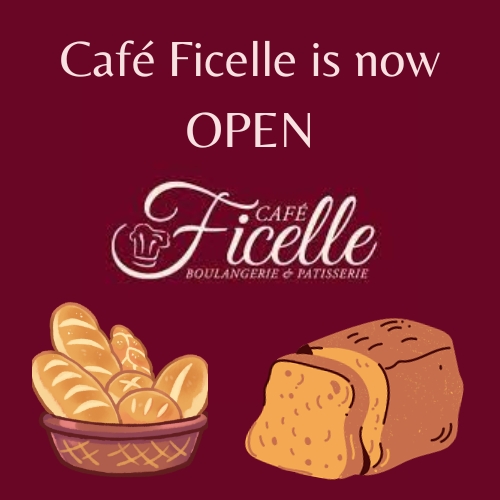 Noa Lozano '27 said, "I think [the new cafe location] will be good for the students and beneficial to the owners, now I can go to it more."
            The new location is in walking distance from the school, right across the street. Ulvang said, "I think [the location is] helpful because it is right next to a crosswalk. So at least kids can safely cross the street and get to it. And I think it gives them another option for something quick to eat. Sometimes it feels like there's not that many options for food outside of campus that are close enough to get to and get back to campus on time."
"We think that this will be a great spot for the high schoolers whether it is to hang out and grab some pastries with friends or sit and work on homework. We also hope the teachers and faculty come over and enjoy this location as well. We hope to be a positive impact on the school," said Woodruff.
The new location is in a convenient spot for a quick breakfast before school or after school snacks. Students can also go before their sport if they don't have sufficient time to go home beforehand, or if they forgot a snack.
"We want everyone and anyone to come in and enjoy the ambiance as well as our coffee and pastries," said Woodruff.