Testing the test
From middle school to high school, many students have to take annual standardized tests. The standardized test that is typically given in schools is called the Smarter Balanced Assessment (SBAC.) The main subjects the Smarter Balanced Assessments focus on are Mathematics and English Language Arts.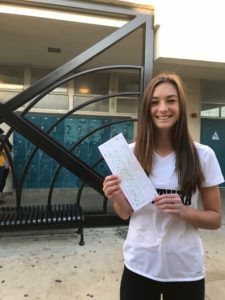 According to a Twitter poll conducted by The Cougar Press, 50 people voted whether or not standardized tests show students' levels of academic intelligence. Of those 50 people, 82 percent of them voted "no," and 18 percent of the people voted "yes."
Junior Peyton Erickson shared, "I don't think that a standardized test is a good way to gauge a student's learning because every student learns differently, however [they] seem to be good or more like the only way to compare different schools statistics."
Junior Margarete Kuzela states, "I think standardized tests are good for showing how much we know for a specific subject, but I don't really think they show how intelligent we are because you can be intelligent in one specific way that isn't really expressed through the test."
Both Erickson and Kuzela believe that standardized tests are not an accurate way of testing students' intelligence. Erickson said, "For [people who are] good test takers, it shows their educational capabilities, but every student is different, and not everyone's intelligence can be fairly and accurately based upon a test."
While many students may think standardized tests are stupid and pointless, teachers tend to have different opinions.
Click the link to access the full interview with Erin Jones:
Ventura High School English teacher, Erin Jones, shares her thoughts on Smarter Balanced standardized tests; "I think the intention behind standardized tests is good because we don't know what all other teachers in America do in their classrooms and you have very different experiences based on your teachers."
When asked what she thought the most interesting part of standardized tests is, Jones said, "I think it is interesting to standardize something and to look across the board at all [grades] all over the nation."