VHS students have had enough
Click on #Enough to access an interactive version of this story.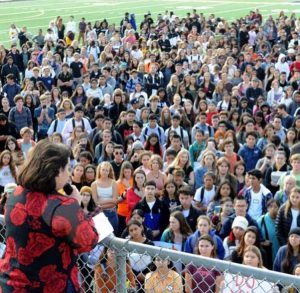 On Wednesday, March 14 Ventura High School students participated in a nation-wide walkout, #Enough, to protest against gun violence in the wake of a mass shooting that occurred last month at Marjory Stoneman Douglas High School in Parkland, FL.  Seniors Eric Martinez and Philip Riley took the initiative to organize the #Enough walkout at VHS.
VHS students walked out of class at 10 a.m. and gathered on Poli st. to begin marching. Students then walked to Catalina st. down to Main st. and up Seaward into Larrabee stadium.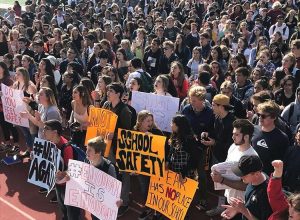 When asked what prompted him to get involved, Martinez said, "I could not stand seeing congress say 'our hopes and prayers are with the victims' and then doing nothing about it. It is common sense to do what is needed to make kids safe in school whether that is gun control or funding for additional security or whatever, it doesn't matter. This is a terrible issue and it should've ended a long time ago."
Tables were set up in the stadium with voter registration forms and pre-registration forms allowing 18 year old students to register to vote if they haven't already. There were also letters to congress that eligible students could sign and mail.
Riley added, "We had heard there was a national walkout and wanted to make one happen at VHS."
"We want to get kids voting and active in politics," Martinez said. He added, "We do not have a next event for the school, but we hope each and every one of the students take the next step and actively participate in our democracy by writing their representatives letters and voting on the gun legislation in the months and years to come."