Sherman to Steinbeck: controversial authors, language and how their work fits into Ventura High School English classes
Required reading part two
Sherman
Sherman Alexie, author of "The Absolutely True Diary of a Part Time Indian," which is taught at VHS, was accused of sexual harassment in 2018. He issued a statement verifying these claims: "I have done things that have harmed other people, including those I love most deeply. To those whom I have hurt, I genuinely apologize. … There are women telling the truth about my behavior." 
Dr. Elizabeth Mainz, a Freshman English honors and college prep teacher, teaches Alexie's book. She chose to teach Alexie's novel because there was a set curriculum for it, and her previous class read it and enjoyed it, so she decided to teach it again this year.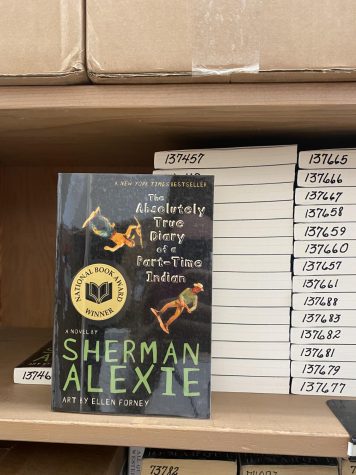 Mainz said, "The module has us talk about what we think about [Alexie's sexual harassment]. What do we think about his response to the situation? And it gives kids a chance to look at that critically, and think about not just about trashing him or trashing the woman who made the accusation but thinking about how these two opinions get presented in the press, how do these things get looked and then how do we as consumers of his art, what's our responsibility as far as consumers."
Mainz said, "Personally, [to hear about Alexie's sexual harassment was] really disappointing. It becomes a really tough decision then, if I enjoyed the art so much someone has created, what's my responsibility here as a person who would like to stand up for people that are coming forward. … It's an interesting conversation and it's also good to get some different voices into our curriculum."
Omar Alvarez '26 read Alexie's novel in Mainz class this year; he chose to read Alexie's novel over Maya Angelou's "I Know Why the Caged Bird Sings" because of their similar themes. Alvarez said, "What drew me towards [Alexie's novel] was probably when [Mainz] was talking about both of them, and I just felt more interested in [Alexie's]. And I liked the book."
After learning of Alexie's sexual harassment in his interview, Alvarez said, "That changed my opinion on [Alexie] as a person, not the book itself, it didn't really change how I felt about the book, just how I feel about him."
Noah Henson '26, who also read Alexie's novel and enjoyed it in Mainz class, said, "I felt that it was kind of disgusting and shocking learning [about Alexie's harassment] just now. I had no idea, I didn't expect that. But because he did not state his opinion in the book about sexual harassment or really bring that up in the book I felt like my opinion of the book didn't change at all. … [I don't wish I know about Alexie's sexual harassment before reading] because I would have read the book anyways … that just has nothing to do with the book so I don't think it's relevant. It is important but not relevant."
As well as the controversy surrounding the author and his sexual harassment allegations, Alexie's novel has been banned in schools around the U.S. "The Absolutely True Diary of a Part-Time Indian'' has appeared on American Library Association's top 10 challenged books list six times since its 2007 publication because of "profanity, sexual references and use of a derogatory term."
In 2017, Alexie's book was challenged in Thousand Oaks, as well as Illinois, Wisconsin and Minnesota, according to Banned Books Week, a blank.
VHS librarian Susan Adamcich said, "["The Absolutely True Diary of a Part-Time Indian']  has some scenes of boys in the locker room talking like boys in the locker room [which led to some it being banned]." 
Adamich said, "Our school board is very open to what we have on our library shelves which is nice. … We have a lot of books that have been banned in other places, some of our novels that we read in class that have been widely adopted like 'The Great Gatsby' and 'To Kill a Mockingbird.'" 
Steinbeck
John Steinbeck, one of the most notable American authors of the 20th century, has written dozens of novels, some of which are taught at VHS. However, his novels have been under fire and even banned in some school districts recently due to their racial prejudice and offensive language. 
The 1937 Steinbeck novel, "Of Mice and Men," is considered to be an American classic because of its themes and story and is taught in all VHS freshman English classes, despite the racism in the novel where Crooks, a black character, is solely referred to by the N-word.
Henson also read "Of Mice and Men" in Mainz's class this year. He said, "The N-word has been mentioned in other required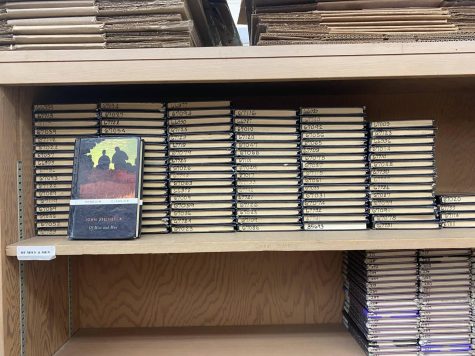 books, like in eighth grade I read 'The Adventures of Tom Sawyer' and they used the N-word a lot in that book because that's just how it was at that time. I feel like a lot of people have already been desensitized [to the N word] in that sense, that they've already experienced that in literature, so I feel like it wasn't really that big of a deal. No one really reacted that strongly about it [in "Of Mice and Men"]. It wasn't that big of a deal."
Keira Clagett '24 read Steinbeck's "Of Mice and Men," in her freshman honors English class. She said, "Our teacher went over the racial prejudice but not the gender prejudice like how there's only one woman in that book so that was something that I didn't like. I know there's a couple books that [VHS teachers] want us to read but they say words that we can't say." 
All VHS freshman English teachers teach "Of Mice and Men" by John Steinbeck to their classes.
Lauren Ulvang, a VHS freshman English teacher who teaches Steinbeck's novel as well, said, "A couple of things I've done and will be doing to tackle these mature concepts [in "Of Mice and Men"] is the following: before they read the novel, we discussed the background and historical context of the text, which included lessons about the derogatory language used in the novel and related key concepts … I set a clear expectation that racial slurs will not be tolerated verbally or written, and they are given visual warnings ahead of each chapter where derogatory language is used." 
This language sparked debate in a New York high school when an anonymous 16-year-old student said that teaching Steinbeck's novel is "not fair to people who are uncomfortable with racism,'" according to an article by Jimmy McCloskey.
On the other hand, Eric Washington, director of African and African Diaspora Studies at Calvin University, said, "The N-Word hasn't gone away. [It's] still being used, but if we feel as though the use of the word is problematic — which we should feel that way — then let's engage it. Let's not censor ourselves or shoo ourselves away from the exploration of why the word has been used in the first place." 
VHS AVID and computer science teacher Linda Begerfeld said, "I read 'Of Mice and Men' my freshman year of high school. … [Controversial language in literature] is an interesting dilemma to be in where you don't want to ignore the history part of it, but there's a lot of words we are not supposed to say anymore you know. … Where else do you get the diversity, except in a public environment, in your English class, you get exposed to other people that aren't in your home."
Mainz, who teaches "Of Mice and Men," said, "[When prejudice occurs in books I teach] I make sure students are aware that they will be in the book, and we try to figure out why the author would use them. Is it a reflection on the author, or the historical context or a larger point? Is it being used derogatorily or in another reclamation context? How I cover it varies on the text, but we do always acknowledge it and figure out the context."
Mainz said that in a professional learning community, a group meeting with all VHS freshman English teachers discussed how they respond to the use of the N-word in their class novels.
Mainz said, "I'm not sure we totally landed on an answer. But, it was really good to have that nice open conversation and hear from each other and just kind of hear what other people do. We'd never make students read it out loud because that would just not be okay. We ourselves don't read it out loud. But it is still in movies when we watch it or in audiobooks… It was really cool to talk about it, you know? What do we do? How do you handle this? Yeah, because it is so different."