VHS Cheer Team head coach resigns
Former VHS Head Cheer Coach Orby Orta has resigned from his position
Former Ventura High School Head Cheer Coach Orby Orta was selected as head cheer coach in April 2022 and formally appointed in May to replace former cheer coaches Sydney and Sierra Paris. He resigned as head cheer coach in early September, tendering his resignation to the VHS administration. Former VHS Assistant Cheer Coach Robin Perry was promoted to head coach the day following his resignation. English teacher Tianna Sondgeroth, who had no prior connection to the VHS Cheer Team, was later hired to replace Perry as assistant cheer coach.
Principal Marissa Rodriguez said, "[Orta] felt the best decision for all involved was for him to step aside [as head cheer coach]. When a person resigns, new appointments within the coaching staff occur, or new hires are sought with the least disruption to the program."
Sondgeroth said, "I came on with the [cheer] team about two weeks ago to become the new assistant coach as the old assistant coach became the new head coach. Principal Rodriguez came to me, and she knows about my cheer background [as] I have experience coaching cheer. She asked if I would consider joining the program, and it didn't take me long to think about it. I pretty much joined the next day."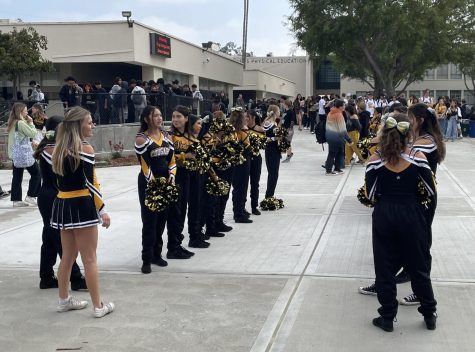 According to Rodriguez, Orta's specified reasons behind his resignation are confidential. Orta was contacted for an interview but has not replied as of Oct. 11. Perry has refused to comment on the situation.
Both before and following his tenure as VHS Head Cheer Coach, Orta has maintained the positions of head coach and co-director of the California All Stars Camarillo cheerleading team. Orta has also garnered a large Instagram following, with 89,300 followers on his @orbyorta Instagram account as of Oct. 11.
Cheerleader Marissa Stadtmiller '25 said, "He changed a ton of things [during his tenure as VHS Head Cheer Coach], and I didn't like any of them. To be honest, I am glad he quit. He was a great coach technically, but his ego and reputation limited that. He was not there for the athletes. He was there for himself and his name. He had changed a ton of traditional aspects in the program, which was one of our main concerns, and when we asked him to compromise on a couple decisions, he quit. He made cheer not fun for most of the team, which created a divide between us. I don't think the team will ever get back to the way it used to be. I am glad he's gone, but now we have to live with the issues he created for the rest of the year."