After school shooting threat, questions remain
Students received an alarming welcome on August 22, the first day of school, when a shooting threat was made public online. While VUSD released a letter the next day, stating that it and the Ventura Police Department did not consider the suspect a threat, questions remain over the balance between violating the suspect's privacy and protecting public safety.
The threat originally surfaced after a "school safety bulletin" from the Santa Paula Police Department was uploaded to social media and listed the suspect as an immediate threat: "If this person or vehicle is seen, do not approach and immediately call 911," read the bulletin in bolded letters, also including the suspect's name, vehicle make, license plate, and DMV photo.
The bulletin refers to a suspect who was evaluated by mental health professionals when he was involuntarily hospitalized after telling a therapist that he was depressed and "fascinated" with school shootings. The Ventura County Sheriff's Department recovered weapons from his house and released him on August 20, 2018. He made statements as late as the date of his release about wanting to shoot up an "unspecified school in Ventura."
Ventura Police conducted an interview with the subject at his home following his release, and, according to the department's Facebook, "determined that no further action was necessary at that time."
"Based on [the suspect's] investigation by the sheriff's department and based on our follow-up investigation with the individual after he was released, we deemed there was no continued threat," said Ventura Police Commander Tom Higgins whose duties include overseeing Ventura's School Resource Officers according to the City of Ventura's website.
"The sheriff's department still sent out a bulletin to law enforcement that was just supposed to be an internal [memo] for law enforcement purposes only, and that was just to [basically] notify the surrounding agencies of the threat.
"There still was a threat, and law enforcement should be aware of [the threat]," he added.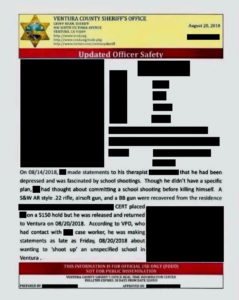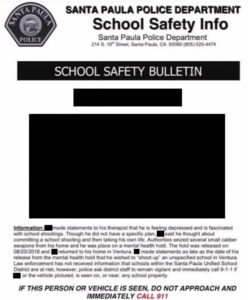 The events associated with the Ventura threat, however, showcase concerns that go far beyond this immediate situation. Under "Duty to Protect" laws, mental health professionals are obligated to break patient-doctor confidentiality if a patient makes threats against a "reasonably identifiable victim," according to the American Psychological Association.
These "Tarasoff rules," which have been adopted in some form by nearly all 50 states, invoke a ruling against the University of California Regents where a psychologist failed to warn a woman murdered by his client despite him having prior knowledge of the threat.
"Ordinarily, obviously everything a patient talks to me about is confidential. Otherwise… the treatment wouldn't work," said Dr. Ron Bale, a Ventura psychologist. "But, if I have reason to believe that my patient is a danger to someone… I have a duty to warn the [potential] victim… and I have to contact the authorities."
"The hard part is making the judgement as to is this a threat or is this person just kind of talking," he added.
Commander Higgins detailed how police look for evidence of planning when evaluating threats: "Maps, or literature, or other things that [make] more credible of a threat," adding that in the case of a credible threat, bulletins would be sent out and the community would be put on notice. "[This threat] didn't rise to that level," he concluded.
"Sometimes we are the first to hear of students with issues," Superintendent David Cresswell said in an email. "In that case, we have a threat assessment team that determines if the student may harm [himself or herself] or others. If the team determines that there's a threat, we then notify the appropriate professionals."
"Student privacy rights and confidentiality are always important," Cresswell stated. "There is information that we are required to share with appropriate agencies. The goal is to provide help for the student involved and safety for everyone."
Although Commander Higgins said that police shared information about the threat with VUSD, Cresswell said he had no knowledge of the threat until the Santa Paula bulletin went viral: "We never did get any call on this. I found out about this when people started bringing the flyer in last Wednesday afternoon. People assumed that we had information on this earlier, but [we] did not."
The fact remains that an individual who had not committed a crime saw damaging personal details about himself released online. Moreover, they were released in error after police had decided that no current threat existed.
"Based on [the suspect's] investigation by the sheriff's department and based on our follow-up investigation with the individual after he was released, we deemed there was no continued threat," – Commander Tom Higgins.
In prior mass shootings, such as the mass shooting in Parkland, Florida, police and other government officials have been criticized for not doing enough about individuals whose warning signs pointed to their future misdeeds. While hindsight is 20/20, where is the line drawn between protecting the community and violating one's privacy?
"The whole thing is [an unfortunate] situation, and there are casualties," said Dr. Bale. "This guy's a casualty… Had something happened and no one said anything, well then that would also be a problem."
"People with mental illness, they still have their rights… and the larger issue is what is society's rights and what [are] the individual's rights… It's always a judgement call [on the part of the therapist]." He stated his belief that such judgement calls had to be done on a case by case basis.
Business Insider capped the number of national mass shootings for this year at 154 in June 2018, shortly after the Capital Gazette shooting. The shooting at an e-sports competition in Jacksonville, Florida most recently made national news; the shooter had a history of mental health issues and legally purchased his weapons in Baltimore, Maryland.
"If [information] went out about a patient and it was a mistake… [but] the greater purpose of that was to prevent people from being killed, I would feel comfortable in a court where a judge was asking me why did you do this, even if they held me responsible for that release of information that I was trying my best to… keep other people safe," commented Dr. Ron Pollack, a Ventura psychiatrist.
In the short term, a potential shooting has been avoided. In the long run, a tough question – is there a way to balance keeping the community safe with protecting the individual's right to privacy – remains.
"It's a judgement call," added Bale. "You make the best call you can make and you hope it's right, and most of the time it is, but sometimes it's not… People in law enforcement have to make that decision all the time, as do mental health professionals."