Venturans march against climate change
Venturans marched up California Street on Saturday, September 8 to raise awareness about the danger climate change poses to Ventura and the world.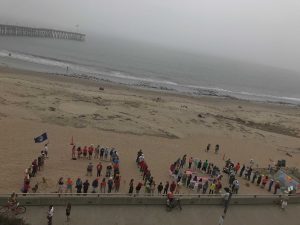 The People's Climate March, and others like it in San Francisco and beyond, took place the weekend before Governor Jerry Brown's Global Climate Action Summit. The summit will take place from September 12 to the 14 and is being chaired by Brown and representatives from the United Nations, the Mahindra Group, and China.
The crowd started by spelling out the word "vote" on the beach before forming a human wall at the water line and marching to the Junipero Serra statue in front of City Hall. There marchers listened to speeches by activists and then organized behind City Hall for refreshments and to spell out the word "rise" before dispersing.
"I'm helping to organize this march because I know enough to know that humanity is in a very dangerous situation relative to our climate, which is worsening," said Kristofer Young, one of the activists who spoke. Young travelled to Los Angeles the previous weekend for a training session on climate activism. According to Young, one of the groups responsible for organizing the march is 350 Ventura County Climate Hub, a local chapter of the international climate advocacy group 350.org.
Marchers displayed posters and chanted slogans as they protested. Among those was, "Hey, hey, ho, ho, [Interior Secretary] Ryan Zinke has got to go." Zinke made headlines in August for saying that climate change had "nothing to do" with California's summer wildfires, per The Guardian. He has since changed his stance, according to New York Magazine.
"I'm helping to organize this march because I know enough to know that humanity is in a very dangerous situation relative to our climate, which is worsening," – Kristofer Young.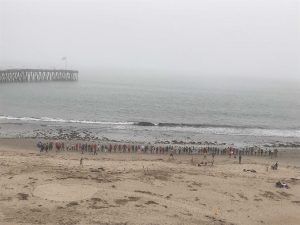 Heather Casanave, one of the organizers, said, "[The city is] working on a climate action, so we are… taking some steps [to address climate change]." When asked what advice she would give to high schoolers regarding activism, she responded, "Get involved."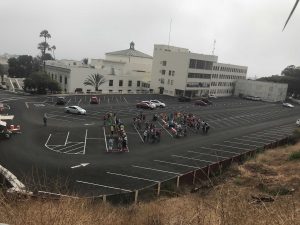 "We need to save the planet, this is their future," she said.
Gwendolyn Alley, another organizer, laid out plans for the future: "I really want to spell 'vote' at Arroyo Verde Park, and I would like to do that before the election [on November 6], and I really want to get young people involved." She explicitly mentioned high schoolers and middle-schoolers as groups she would like to reach out to. She has not set a date for the event.
Student Isabel Mercado commented, "We need people and regulations protecting our environment. It is the only planet we have."
Mercado, who did not attend Saturday's event, said she would attend future marches in Ventura: "Based off my experience… [at a march] based in LA… I would. It was extremely well organized and has organizations there with practical ways you can help."
When asked if he had a message for Governor Brown or the other members of the summit, Young replied, "Please respond directly to this serious problem… if we don't stop the continual rise in… global temperatures, we will be doing nothing but putting out fires literally and cleaning up after floods."
"I would simply ask all of them to do everything they possibly can and be clear with all of us that they are massively committed to addressing this situation," he added.
Watch given at the event below:
[cvm_playlist theme="default" aspect_ratio="4×3″ width="640″ volume="30″ videos="4449″]
[cvm_playlist theme="default" aspect_ratio="4×3″ width="640″ volume="30″ videos="4446″]
https://vimeo.com/thecougarpress/review/289000727/85ab1eaa97