New conservation group sprints to forefront
Citizens of Ventura gathered at Topa Topa Brewing Company on Monday night to listen to Dr. Vic Thasiah, California Lutheran University's Chairman of the Religion Department and a self-described lover of running. His topic? His new organization, Runners for Public Lands.
Thasiah was speaking as part of Topa Topa's Nature on Tap talks, a series on conservation and environmental themed talks hosted by Topa Topa and the Ventura Land Trust (formerly the Ventura Hillside Conservancy).
"My hope is that we start here a grassroots movement that would take off across our region and across our country to mobilize runners to do their part in protecting public lands" – Dr. Vic Thasiah. 
Opening his speech with how running frees him from his office "cage," Thasiah extolled the benefits of running. "The more you do it, the more comfortable you feel doing it," joking that he also runs to "offset the beer" he drinks. The line got a round of laughter from the brewery's customers.
"I've been running for most of my life, but maybe in the last ten years I've been more into it," said Thasiah in an interview before his presentation. In 2010, I ran the Chicago Marathon and I thought, after the race … 'I'm never going to run again,' it just completely destroyed me but two hours later I was online looking for my next one [marathon]."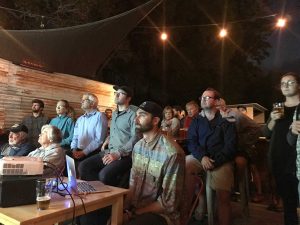 Thasiah quickly pivoted to conservation: "Running and conservation go together," he declared. Discussing his experience running in nature, he turned to the main focus of his speech: out of all the outdoor enthusiast groups advocating on behalf of public spaces and the environment, none represent runners.
On how he got involved in conservation, "It was a combination of being really interested in the environment and conservation…. About a year ago there was an article in Trail Runner magazine, and it was an article that was calling runners to action because public lands were under threat because the federal government was … more interested in selling that land off to various states, particularly in Utah."
"I heard this call to action, and I thought 'I love to run, I love open space, I love public lands,' and so I wanted to get involved and do my part in … trying to protect public lands."
Runners for Public Lands was his way to get involved, he continued. With no major groups speaking for runners, he decided he should get involved at the local level by starting such a group for Ventura County.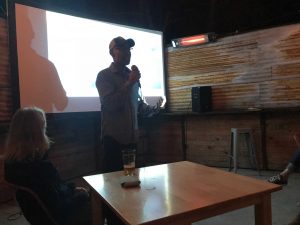 "My hope is that we start here a grassroots movement that would take off across our region and across our country to mobilize runners to do their part in protecting public lands," he said.
"Mountain bikers are great at it, climbers are great at it, kayakers are great at it … but runners as a group, as a collective, don't have a national platform to really kind of share their enthusiasm for public lands and share their concerns and also sort of work to contribute to protecting more and more land," he said during the interview. 
Senior Kate Marsden, who runs for VHS's cross country team, commented: "I think it's really … important [to protect public lands], especially to runners because we need open spaces, and so does just [about] everybody."
"At the beginning of the school year," she added, "The cross country team… we got to check out this new trail with Ventura Land Trust."
"They had this new trail that they let runners try out, and it's super cool – it's right by Missionary School and like, we got their permission and we got to check it out."
Thasiah finished by asking runners, outdoor enthusiasts and environmentalists to get involved with RPL. He again stated his desire for a truly national platform for runners to advocate for public lands, a line met with applause from his audience.