Ditching senior ditch day
At many high schools, "senior ditch day" is a tradition where the seniors of the school ditch for the day. Here at Ventura High School, there hasn't yet been an "official" senior ditch day this year, and there probably won't be.
VHS Vice Principal, Christopher Murphy, explained his thoughts on senior ditch days, "[There is no policy] on senior ditch day and we never will have, I guess, have a policy on senior ditch day because it's a 'ditch.' It's against the rules [and] it's against the law."

Murphy mentioned another reason why VHS does not have senior ditch days– safety. "It's really important that students are on campus because students are safer on campus than they are on the streets doing whatever. There was a senior ditch day at Buena [High School]… it happened some years ago. [There was] a young woman who died because she was in a car on senior ditch day."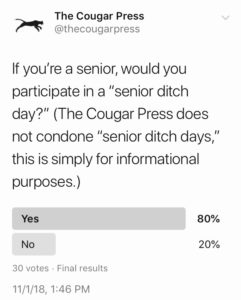 Earlier this year, a similar case in Georgia made national headlines. Cristina Pavon-Baker, at the time a senior at a small private school outside Atlanta, crashed into a tree at 106 mph while driving to shop with her friend on a senior ditch day. The friend was killed, and Pavon-Baker now faces a felony charge of vehicular homicide.
Safety is a huge part of why VHS does not permit seniors to have a student organized ditch day. To mitigate this, many students offer a "senior day" with organized activities to keep students in a supervised environment rather than being out on their own during school hours. VHS offers one of these towards the end of the year, but not in October.
English teacher, Erin Jones, shared her stance on senior ditch days: "Well, senior ditch day is rather silly and so I make a point that I am going to run a normal class and I think that values my time and my students time who choose not to [ditch]. I make it very clear to students what my expectation is."