VUSD appoints Dr. Roger Rice as new Superintendent
The Ventura Unified School District Board of Education unanimously voted Tuesday, January 8, to select Dr. Roger Rice, the current Deputy Superintendent for Student Services at the Ventura County Office of Education, as VUSD's next superintendent.
The decision came less than a month after Superintendent David Creswell, who had held the job since 2017, resigned his post amid a controversy over homophobic and transphobic comments he made in a sermon two years earlier.
Rice has a background in education. In addition to his current position as Deputy Superintendent, the incoming district head has worked as a teacher, principal, dean, and Assistant Superintendent in the Oxnard Union High School District. Last year, the Ventura County Leadership Academy named him education leader of the year for his work as Deputy Superintendent.
After the dismissal of Superintendent Michael Babb in 2017, the district went through an extensive series of public comment periods and candidate interviews as it worked to fill the job, which ultimately led to Creswell's appointment months later. However, VUSD opted to forgo this process in appointing Rice.
"The community was very clear in their request that the new Superintendent be someone who will advocate for all students, who has experience working with at-risk and marginalized youth, and who will effectively communicate with our students, staff and community," said the Board in a Tuesday press release. "When considering whether to spend several months and thousands of dollars conducting its third search in four years, the Board agreed to look first at local candidates with a proven track record of working with and for all students. Dr. Rice immediately came to mind — having been a highly regarded finalist in the previous Superintendent search."
Rice's first day on the job will be Friday, March 1. Until then, Dr. Jeff Baarstad, the retired former Superintendent of the Conejo Valley School District, will serve as Interim Superintendent, in turn taking over from Dr. Jeff Davis, who has held the job since Creswell's departure.
Sabrena Rodriguez, President of the VUSD School Board, explained that this decision was made to ensure the district is fully staffed heading into a busy season of contracts and negotiations.
"Dr. Davis has a full-time job that's a really important job for our district, which is Assistant Superintendent of Human Resources, and in that role he's responsible for all of our negotiations with our associations," said Rodriguez. "We have contracts that are coming up with our teachers and classified staff… Also, [for] any staffing changes that need to happen by next year, we're legally required for those to be notified by March 15th, which means there's a lot of work going out right now. We didn't want to have [Davis] divide his attention between a full-time job of being Superintendent, and a full-time job of being Assistant Superintendent."
Following Creswell's departure, many community members emphasized the need for the new Superintendent to be someone "who will advocate for all students, who has experience working with at-risk and marginalized youth, and who will effectively communicate with our students, staff and community," as summarized in a VUSD Press Release concerning the appointment.
Rodriguez concurred with these sentiments, and explained her belief that Rice's appointment will advance these goals.
"I think one of the nice things about hiring someone from a neighboring district, and who has a track record we can look at… is that we know the things that he's done, things he believes in, and the things he'll advocate for," Rodriguez added. "In Dr. Rice's case, we can look to the programs he's created at the County Office of Education… specifically, they've done a lot of training for the County staff on LGBTQ+ student issues, they've done a lot of equity and diversity training. I can feel comfortable in saying those are things he believes in and that he will support."
"[I want] someone who can unite the district," said senior Mati Castillo of the new developments. "I feel like we're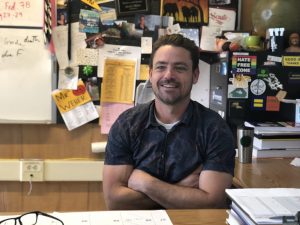 kind of scattered right now, and divisive, especially after not only Creswell, but what happened with Mr. Reich over the break."
"In my mind, the teachers are here to serve our students… and the people who are in the ESC [educational service center] and the district, and the administrative factors, are here to serve and enable the teachers to do the best job they can do," said VHS teacher Justin Weber. "So I'd like to see a Superintendent that is, first of all, honest and who acts with integrity, who follows through, as I think the Superintendents in the past have for the most part."
Rice himself, when asked about his top priority as he starts his new job, agreed.
"That's easy – making connections and establishing strong personal and professional relationships," said Rice. "The district has been through some tough times recently, and I want to do everything possible to restore confidence and trust between and among everyone involved."