Powderpuff: It's grind time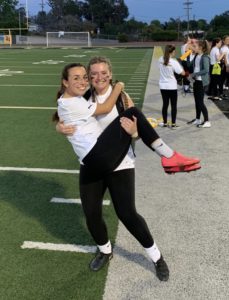 It's that time of the year again for powderpuff to start up at Ventura High School, and the team is already prepping for their game against Buena High School on May 24. The official practices for powderpuff football started in March and are every Tuesday and Thursday after school in accordance with the ASSETS program. For powderpuff cheer, practices started on April 22, and have been taking place Mondays and Wednesdays after school.
The head coach for Varsity powderpuff football is senior Noah Conboy. Seniors Steven Copeland, Gage Gregorchuk, Sam Lenninger, and Billy Maxwell are also coaching powderpuff. For Junior Varsity, the coaches are juniors Jadon Cline, head coach, and Rourke Rieman.
According to Gregorchuk, there are around 35 girls on the Varsity team and about 20 on the JV team.
The powderpuff cheer coaches are seniors Cassidy Cross, Mikayla Robinson and Isabella Westrich.
Regarding powderpuff cheer, Westrich stated, "I'm really excited for the halftime routine; we have really funny music so it should be good. And of course I'm excited to see all the guys wearing skirts."
Gregorchuk said, "Normally, at practice we go through the same warm-ups that the boys would do and then we usually split up into position groups and go over responsibilities by position. After that, we usually bring it together as a team to go over either defense or offense."
Conboy explained that at practice, "[they] usually go over individual skills that need to be learned for certain positions and then bring them together as a whole team and have them play and use those techniques in game-like competition."
"I'm looking forward to killing 'Fuena' and seeing the girls get really excited over the game. The team is looking great. We are filled with athletes and they have really progressed throughout the practices," added Conboy.
Also with high hopes for the team, Gregorchuk stated, "I think all of us coaches are really excited by how the girls have practiced so far and are really excited to see how they do in the scrimmage. The team is looking really good defensively. They have picked up on the new things we are doing and offensively we have a lot of athletes that can make plays."
Senior Caitlin Espitia, playing a slot for the Varsity team, stated, "I am looking forward to playing this year since I wasn't able to last year and it is always fun to play Buena in something. I hope to get better at catching and getting past the defensive quicker."
On April 18 there was a scrimmage between Varsity and JV powderpuff, where Varsity won 27-14.
Junior Shayla Magdaleno, on the JV team, stated, "It was actually really fun and everyone got to play a decent amount of time! We were all pretty scared that we were gonna be slaughtered but we all played better than we expected which surprised everyone."
Reiman added, "I was very surprised with how some of the girls performed and we figured out what positions they were best at."
Junior Natalia Lopez, one of the captains for the JV team, stated, "Everyone was in a really good mood after the game and buena better watch out."
If you want to come support the VHS powderpuff football and cheer team, come out on Wednesday, May 24 to the Larrabee Stadium at VHS.