The recent super bloom of flowers around California
What's behind all the Instagram pictures of the poppy fields?
There has been a super bloom across California.
A super bloom is an explosion of wildflowers that exceeds typical spring blooms.
The super bloom was caused by heavy rains this winter. Many Ventura High School students have been posting pictures on social media and expressing the beauty of the bloom.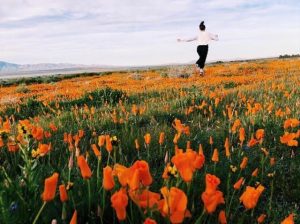 The most prominent group of flowers are the ones residing in Antelope Valley California Poppy Reserve. This preserve is open to the general public. According to the Antelope Valley California Poppy Reserve, the amount of flowers this year reached one of the highest numbers in 12 years.
Lots of Ventura High School students visit the fields on the way up or back from Mammoth Mountain. This is common spot. Though, because of this the poppies have began to die do to the constant weight and pressure of people stepping on them.
Freshman Quinn Ferguson stated that, "We drove by there over the weekend, and there was barely any poppies left. It's super sad and I think it's because people keep taking pictures in the flowers."
Among Ventura High School students, there has been an increasing amount of concern revolving around the health of the poppy reserve.
With the Earth's health being so relevant in current topics, to some students, this this is an important issue worth trying to resolve.
Freshman Preston Purdy has a possible solution to the flower erosion. She suggested, "Maybe people could raise more awareness about the trails around the poppies or make larger trails so people won't walk on them."
If your concerned about the health of these poppy fields, like some of these students, you can visit the California Department of Fish and Wildlife website or the California Department of Parks and Recreation website to take part is the conservation of the wildflowers.