After coaching track and field for over a decade, Ventura teacher is recognized for his hard work
On top of being department chair for health with college and career seminar, Kory Anderson has been coaching track and field for twenty years. Just recently, Anderson has earned the award of 2018-19 Boys Track and Field Coach of the Year by the Southern Section.
Upon receiving the award, Anderson's first thought was that a joke was being played on him. He remarked, "A couple of years ago I was up for the same award, but I received a call giving me a heads up about being one of the finalists. This time I only received an email saying 'Congratulations you won the Coach of the Year award', so I thought it was a scam or one of my friends messing with me." When Anderson verified that none of his friends were messing with him, he thought that acquiring the award was "really cool."
"I think we stand out more as a staff than I do as a coach," Anderson said, "I would like to think that I'm just a reflection of our staff. We've had some really excellent staff over the years so I've been blessed to learn from a lot of great coaches."
Athletic Director, David Hess, comments that Anderson is very deserving of this award and adds that, "Working with him is great.  He really loves what he does and it shows. He puts in a tremendous amount of work to make our program as competitive as possible."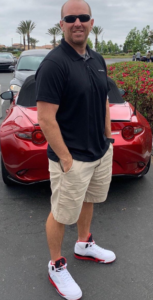 Anderson also shares why track and field is special to him, "Track isn't really a sport where hundreds or even thousands of people will show up at the events. At some sporting events like football or basketball you'll get a huge crowd to come and support you. Track is one of those things that you do because you like the people you're doing it with, you want to test yourself, and you enjoy what you're doing."
One of Anderson's proudest moments as a coach is seeing a player accomplish something that they didn't even think was in the realm of possibility. "Seeing [the players] gain an appreciation for what somebody else can do, like a thrower seeing a distance runner finish the mile in five minutes, is always great," continues Anderson. "The respect for the differences that we all bring and having those differences being celebrated as a conglomerate of the whole is amazing."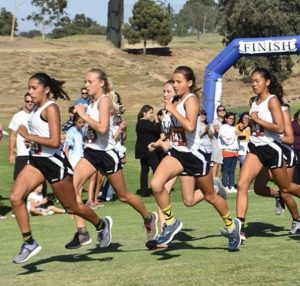 Senior Madeleine Locher comments that she likes working with Anderson because, "he's very motivated and always gets into all our races. It's also cool to have a coach who is really into what he does, he rallies everyone up and excited to compete."
Anderson is already planning for this upcoming season, "[He] tends to look and plan for what we have, might have, and what our weaknesses are so that we can focus on those and get better. [I want to] help the kids grow in their relationship with one another and become more accountable with each other." Anderson looks forward to coaching track and field once again in spring 2020.