With Spirit week beginning next week, students should know that there have been some changes from preceding years.
Spirit week will be Monday October 9 through Friday October 13, with the rally still occurring on Friday. However, Thursday October 12 will not be Buena Nerd day.
Although in previous years Buena Nerd Day has been a part of spirit week, this year neither Buena nor Ventura High School will be participating in "nerd days."
Removing "nerd days" from Spirit weeks at high schools throughout VUSD was first brought up as a speaking point on the agenda of a board meeting.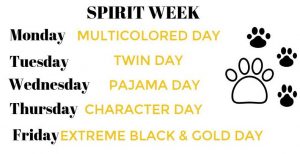 The decision to remove nerd days was decided by all of the VUSD principals, in order to encourage a good natured rivalry. Despite it being a tradition, the principals of VUSD all thought that it is important to be more respectful towards one another as a result of the increasing rivalry these past years.
For VHS students, this change was initiated by principal Carlos Cohen. Because of his choice, Ventura High School's ASB entertainment committee — who is responsible for pitching spirit week ideas to Cohen — has adjusted their choices to honor his decision.
This year, the entertainment committee consists of Seniors Yuliana Dominguez and Courtney Caldwell, junior Grace Tyner, and sophomore Kaycie Rae-Tackett.
In response to the removal of Buena Nerd day, Dominguez added, "Of course [Buena] will still be our rivals, but we are trying to minimize all of the hate and profanity that happens every year because of it."
With this change in mind, Caldwell states that: "There's been talk about our students dressing up anyways, and ASB is strongly discouraging this. It's not respectful to our principal's wishes, and since Buena is not actively participating in a nerd day at our expense, it doesn't seem right for us to do so."
Dominguez still encourages all students to participate in Spirit week, since "this is [the] first one, and [ASB] tried to make it simple and easy, to encourage students to dress up."