Students share ways to make masks that protect themselves and others
The COVID-19 outbreak has caused not only illness and mortality, but shortages of essential items as well. Whether it be daily household necessities, such as toilet paper and eggs, or important sanitary components, such as hand sanitizer and masks, people are on the lookout for clever dupes. 
Many Ventura High School students have taken it upon themselves to provide masks for themselves, their families, and the community in an attempt to slow the spread of sickness. If you are on the lookout for ways to do this as well, then take a look at these students' stories to be inspired by some fellow cougars.
VHS sophomore Sarah Ball was inspired by the needs of elderly people, such as her grandma. She explained, "I made these masks with my grandma. That is one of the things that prompted me to make them, I know there are other families who are not able to make masks and we all know that the ones who are most susceptible to this virus are the elderly. I have not had the chance to go out and give masks to people, but I hope to find the time to do it soon. It was quite a process of making them. At first, our sewing machine was broken, so we had to take it in and get it fixed, then we had to search through my grandma's piles of fabrics to find something that was light and breathable, then we came to the time to make them. We had found a pattern online, and we began. We have made a few, and I hope we can continue to do so, hopefully getting them out to the people who need them."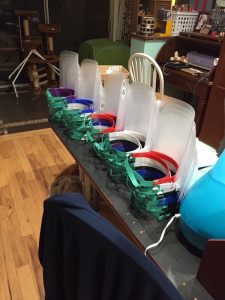 With a trip to the store in her future, senior Grace Wagner and her boyfriend came up with the plan to make each other masks crafted with care. Wagner explained the mask making process, "I wanted to make masks because I needed to go to the store with my boyfriend, so we decided to make the masks for each other. We made them out of a coffee filter, pipe cleaner, two hair ties, and cut up a Trader Joe's tote bag. It was really easy but the thinner fabric you use the better because it's more breathable."
Next, junior Stella Feingold summarized how she dabbled in mask-making. Feingold stated, "I saw the pattern for the masks on Etsy, which prompted me, and I crocheted them for my family."
Similarly to Feingold, a student who has requested to remain anonymous, expressed, "I wanted to make the masks because my family was having trouble finding any in stores, so I made them for my mom and siblings. I used a really simple tutorial from online, using old shirts or other fabrics, cutting a piece out. Then, making holes and a general outline."
Junior Fiona Henley realized she was in need of masks because she still had to face the community and continue to work at her job. She explained, "I made my masks because I only had a few store-manufactured masks, and I decided it was better for me to make a mask, considering I had to wear mine at work and I needed some for my family. I am the only one leaving, so I made most of them for myself. The process was pretty easy. I used elastic, which I had from other sewing projects, and a pattern I found on the internet to start my masks. I used two different patterns and doubled lined the fabric, leaving space to insert a coffee filter or paper towel as a filtration system."
For the benefit of the workforce, junior Bailey Malcolm was asked by her dad to find a way to create facial protection for him and his employees. Malcolm expressed, "I enjoyed sewing them on my own, and my father, who is an essential worker in a dangerous environment, asked me to make them for him and his employees to stay safe. I sewed the masks for them, as well as my whole family. First, I started by layering clean cotton fabric from old scraps and old shirts to upcycle them. I tried many different patterns, but ultimately decided on my own. With each layer I did a test to make sure you couldn't feel air coming out and that liquids couldn't either. For anyone who has the talent or the time and resources, it's so important for us to pitch in in making masks, even if it's just for those around us. Plus, it's a fun activity to do over zoom with friends."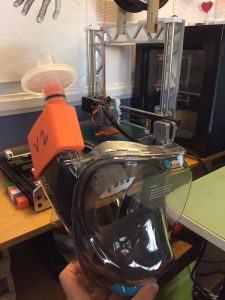 As the students above have pointed out, making masks not only helps to be a part of the solution and keep the community safe, but is also a great pastime.
Senior Jaelen Hsu took the idea of creating something helpful and unique for the community to a whole new level. He gave us an insight on his contribution, "I'm a cofounder of STEMbassadors, a local STEM education non-profit and wanted to get protective supplies to medical workers quickly because the industry was going to take some time to get production going for the high demand of supplies. I've helped make face shields for the staff of Dignity Health, CMH , and VCMC. We've had what must be close to 50 3D printers making headbands out of strong plastic (PETG) which connect to a thin clear piece of plastic which protects the face, the design comes from Prusa Research. After the headbands are printed, we laser cut the thin clear plastic and attach it to the headband, strap a thick elastic band around the back and it's pretty much finished. We've made 3,000 face shields total in under a month, often outputting close to 100 in a day. The manufacturing industry is now starting to take over with quicker injection molding processes, so we're slowing down production, but I think we filled an important gap while they got things going."
Working with Hsu, a teacher at De Anza Middle School, Alex Wulff, gave some more detail on the process. He explained, "Many of the STEMbassadors and former students had family members or dear friends who were nurses and doctors preparing to face the coronavirus. When Joseph Prusa released his open source design for a 3D printable face shield, we saw an opportunity to help our friends and loved ones on the front lines. The STEMbassadors, their VUSD classmates, and the teachers we have trained over the past two years were all ready to jump into action. Overnight, we were producing shields and within days we had built a network of students, teachers, and community members capable of producing close to 300 shields per day. To date, we have produced close to 3,500 shields. Every single staff nurse and doctor at VCMC has one of our shields with their name on it. We sent more than 1,000 shields each to Dignity Health (St. Johns), and CMH. In addition, we have provided VPD, local fire fighters, pharmacists, and many other hospitals and clinics across the Country with shields."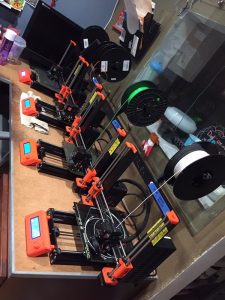 As for the process, "The headband is 3D printed on classroom and privately owned 3D printers. The lenses are laser cut on DATA's 4'x6' laser cutter and die cut at Associated Pacific Machine Corp. by VUSD teachers and students. The elastics are made by hand using a leather punch. STEMbassadors assemble and package the shields for distribution." 
Some other details include, "Under Dr. Rice's leadership, VUSD jumped on board to support this project faster than any other local school districts. As a result, health care workers were able to quickly get the supplies they needed to feel safer in the midst of this pandemic. Without the network built by STEMbassadors and it's incredibly talented teachers and student trainers, it would have been impossible to accomplish this feat.​"
Although what STEMbassadors accomplished impacted the medical community, it doesn't mean you can't also make a difference by doing something small from your home, or even by encouraging responsible behavior and spreading helpful information. The way you act can influence peers. The efforts made by these VHS students can lead to the eventual cease of the spread of COVID-19. When these students inspire others with the effort of masks, physical distancing, and washing hands, they can bring us one step closer to returning to normal life.