'Let Ventura Play' takes it to the streets
Despite there being some objection to restarting games, it's clear Ventura athletes want sports to reopen fully again.
COVID has halted sports across the county and beyond since March 2020. 'Let Ventura Play' is a movement that advocates for sports activities to resume. A rally was held on Nov. 13, 2020, in front of the Ventura County Gov. Center. Their goal, according to freshman VHS football player Nick Thomas is, "To get all the sports open in Ventura County so we can all play." The founders of this movement are Sarah Thomas, Jason Maxwell, Kim Ledesma and Gim Mcgee are all parents of VHS athletes.
    One of the founders, Sarah Thomas, stated, "The four of us are on the booster club for Ventura football and seeing that sports in Ventura schools and youth sports weren't getting opened up, we decided to start 'Let Ventura Play.' We have seen that multiple other states have safely opened up youth sports and student athletes have been able to compete safely in their sport. We know that Ventura County can do the same." Seeing that other school sports have reopened safely, Thomas reasoned that VHS can do the same.
   According to Thomas, "The main goal is to get kids back to sports responsibly and safely. Studies have found that since the pandemic, kids need sports for their mental health."
    Some people may think it's selfish to reopen sports in the midst of a pandemic. To this, Thomas said, "There is so much at risk with our children not having them in school or sports. Mental health, teen suicide, teen drug abuse, child abuse have all seen a dramatic rise. Sports are voluntary, every family needs to decide what is best for their families."
Student athletes at VHS have varying opinions. Henry Hammel, a freshman student athlete with the cross country team said, "I personally would like to reopen sports but at the moment I believe the right thing to do is wait until it is safe to compete, and just be patient." Dash Lopez, a freshman baseball player said, "I think that they should let us play because in 38 other states they have played successfully and safely, and letting us play is a way for us to get out and create friends and express ourselves by playing." Taylor Sovich, a senior on the cross country team said, "As much as I'd love having sports reopen and get[ting] to play again, I think right now it's not the best idea due to the high amount of COVID-19 [cases]. But I'm hoping the [numbers will] go down so things can start getting back to somewhat normal."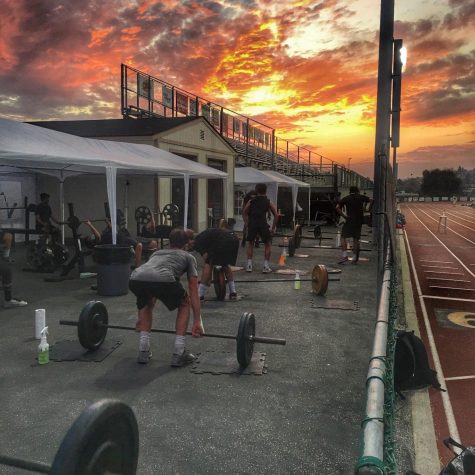 Thomas continued, "The protocols that the Ventura football team is doing now, I think, are working. Each player upon arrival has their mask on, get their temperature checked and have to sanitize. College football tests their players every week and if they come back positive they have to test again to make sure they didn't get a false positive, and if it still comes back positive then that player or players are removed from the roster for 2 weeks."
   James Maxwell, another founder, talked about when the movement was starting to become official, "I think we began planning around the end of Sept. defining the message we wanted to send and were actively working on planning events by the first week of Nov."
  When should sports reopen? He said, "I'm hoping for January as planned. Although I'm visiting my family here in Ohio. They have played fall sports with zero issues with Covid cases and plan to have winter sports starting."
   Why should sports reopen? He stated, "I would like to ask that they look around to see 'TANGIBLE' evidence from the countless other states, as well as college and pro sports to see that this can be safely done. I urge them to consider the following, sports are more than just a game, it gives kids a passion about something, and maybe that passion is what keeps them from making bad choices on the streets, as well, some kids have a lot of college hopes riding on gaining scholarships through performance to offset tuition costs. By taking away sports, they're closing doors for a lot of these young adults."
Isaiah Escamilla, a freshman soccer player said, "I think we should reopen as soon as possible while taking the necessary safety precautions. For a lot of us sports [are] the only thing keeping us from going insane at home." 
    The Let Ventura Play movement wants athletes back on the field. Whether this happens or not, is based on the decisions of the administration. With Ventura County returning to the purple tier, we have yet to see what happens to the sports team of VHS.