Saying goodbye to the old SAT
 The College Board has officially announced the retirement of the SAT with essay and subject tests.
As of Jan. 19, 2021 the College Board announced that it will no longer offer the SAT subject tests or the SAT with an essay. According to the College Board's official announcement on their website, the discontinuation of the subject tests will only apply to students in the United States. The College Board clarified along with this that, "Students currently registered for an upcoming Subject Test in the U.S. will automatically have their registration canceled and fees refunded." The College Board claimed that the discontinuation of the tests is being done not only to reduce stress on students, but also thanks to the widespread use and effectiveness of the AP exams. 
If you have already taken a subject test and are concerned about whether or not it will matter, the board said that they have reached out to colleges and the schools will make the decision for themselves. To learn more about what your colleges will look for, be sure to check their websites for the most accurate information on applications.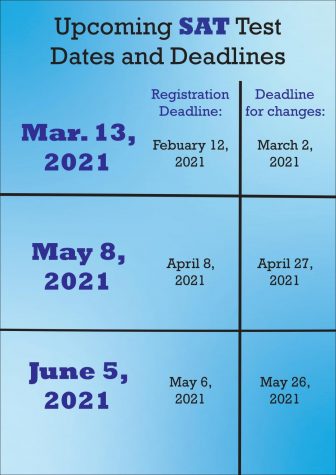 The SAT essay, however, was given a slightly different timeline. The optional essay will continue to be administered through June of 2021, not only for those already registered, but also for anyone still planning to register. One slight accommodation made for this year's SAT instead is that students may now opt out or cancel their registration to take the essay without change fees. This can be done through the online account up until the registration deadline.
The change is being done by the College Board as a measure to "respond to the changing needs of students and colleges." Similarly to the subject tests, the College Board explained on their website that the essay no longer seems to be a main way for students to showcase their writing skills. Again, the board again explained that it is wise to check with each college individually to discover whether or not they will be accepting or considering the SAT essay in their applications.
Senior Shantae Williams agrees with these recent changes made by the College Board. She said, "Honestly, I think that the changes are fair only because of the critical changes in our lives due to COVID-19. Although it will throw off our normal routine of college applications, I still think that it is a great decision that the College Board has made. Not everyone is in the mental state to study hard enough for the SATs and such. I think their decision will impact the process in a really crazy way. I'm not even sure whether eliminating essays and SATs will increase or decrease our chances of getting into the college we want. Sometime last semester, I applied to take the SATs in March but I'm not sure I want to take them anymore. I mean it's my senior year, but will it be really necessary?" Williams, along with other seniors in the United States, are in the process of questioning whether taking traditional measures is even worthwhile during this unusual time.
Looking ahead to next year, junior Aliza Barroca said that she still plans on taking the SAT even with the changing college admissions climate. Barroca said, "The subject tests seem fair to eliminate, at least for this year. Personally, if I were applying this year I would feel like any test I were to take would be a false reflection of my true work ethic. However, the essays are a little bit tricky because that's how colleges get to know you as a person, not just your test scores."
Coming from the perspective of someone still in the beginning of their high school journey, freshman Anthony Quevedo looked at it without the pandemic in mind. He said, "I think the essay part for the SAT wasn't necessary and there are other important things that the SAT could focus on. Subject tests always seemed a little unfair. I think they should make it easier, but not take away all the subject tests parts."
As seen in the class of 2020, some seniors may choose to change their original college plans or push them back. Barroca said, "I think this year may be a dip in applications to be honest. I feel like high schoolers have it especially rough, and a lot of people might be inclined to take a year off; maybe start at a junior college first. I'm only a junior, but my first semester was so bad that I was actually considering redoing this year and graduating '23. I don't think I will anymore, but I think if I was a senior, I would seriously consider taking a gap year or transferring later on."
With everything going on and the loss that students have experienced this year, people and even the College Board are showing some sympathy to the students who are battling their mental health and motivation through such a tough time. Although colleges will be accepting less of the traditional requirements in applications, these are being replaced by students just persevering through COVID-19. This is a learning process not only for the students, but for teachers, parents and the colleges. If you wish to read more on what has changed with the SAT and why, visit this link.