Opinion: VHS yearbook superlatives receive backlash
Senior superlatives are a tradition within yearbooks, but did they take it too far?
With the 2020-21 school year coming to its close, Ventura High School yearbooks started being distributed. However, people began to discover that some of the "senior best" awards were not what they seemed.
Soon after distribution began, students discovered that two of the senior best categories in the original yearbooks were actually stickers, covering the original categories of 'Most likely to get cancelled' and 'Most likely to catch COVID twice.'
After students began to rip off the stickers to see what truly lied underneath, news broke of the two categories. Principal Carlos Cohen released a statement saying that all yearbooks were being recalled, and that yearbook and journalism staff would need to take specific training in the future years. His response left students and parents with many lingering questions.
According to a Cougar Press Instagram poll posted on June 4, 2021, out of 161 responders, 122 (or 77%) of people voted that these controversial topics were just "humor," but others did not think it was funny.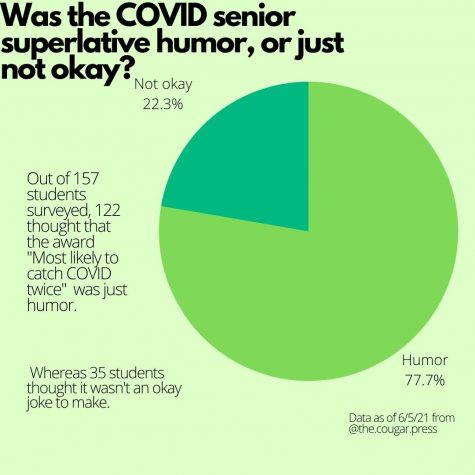 Senior Cade Ledesma, who won 'Most likely to get COVID twice' said, "I think the topic was fair and funny. I'm not upset at all." He, like many other students, was not upset by these awards. Ledesma continued, "I think it's really dumb and people need to stop being so sensitive."
It seems as though many students don't think that these controversial topics were very problematic. A lot of students think that the topics were meaningless, and not meant to be hurtful. However, not all students think this way.
One student in particular was very upset about this topic– senior Morgan Jensen, who was awarded 'Most likely to get COVID twice' and 'Most likely to be cancelled.' Jensen requested not to be interviewed by the Cougar Press, and said that she is "unable to answer questions about this topic." However, according to the yearbook voting records, she had voted for herself in both of these categories.
Jensen and her mother talked to ABC7 Eyewitness News about the issue. Jensen said, "It's a really big deal right now. COVID is obviously a real thing and people have lost family members so don't think that's something that should be in a yearbook."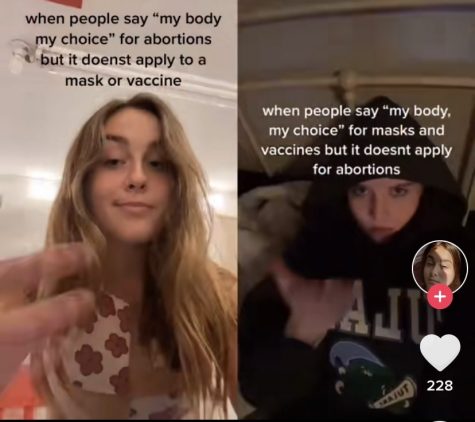 Although Jensen stated that COVID-19 is "a big deal right now," in her interview with ABC7 News, on Jensen's public Instagram and TikTok account, she has displayed her anti-masking and anti-vaccine views. Jensen has also been an avid traveler throughout the pandemic; her travels are displayed throughout her public instagram. Jensen has posted her travels throughout states like Colorado and Florida last summer while COVID was at an all time high in Ventura County. 
Devin Larsen, another yearbook staffer, said, "We as yearbook staff and editors understood there was an issue and we are extremely sorry that those categories were put into the book. We never meant to demean or shame anyone, and we did our best under very unique circumstances to solve the issue."
Yearbook distribution has continued –beginning on June 8 at lunch– with the controversial pages being cut out to resume distribution. To avoid such issues in the future Principal Cohen has announced a plan to conduct specific training of yearbook and journalism staff in the future.