The will of the GSA
What is the significance of the Gay-Straight Alliance, and how does it aid students?
Clubs at VHS campus range from academic to extracurricular and everything in between. They can give students something to look forward to when they come to school. Some clubs exist to be a safe space for a community of students, such as the Gender-Sexuality Alliance. Originally advised by former VHS French teacher Sebastian DeClerck, this club is under new management as of this year. 
Their new advisor, English teacher Elizabeth Mainz, said, "I was really excited to get involved with it because I think it's a really good club and a nice place for people to feel comfortable and safe." 
Every Wednesday at lunch students gathers in room 102 to converse, meet new people, and overall to find a community of individuals who support them. As Mainz puts it, "This club is to create a safe space for folks that are gender or sexuality diverse. It's LGBTQIA+ so any students that feel like they are questioning or any students who feel like they are in that spectrum somewhere, any students who feel like they want to push the boundaries of gender can come to the club."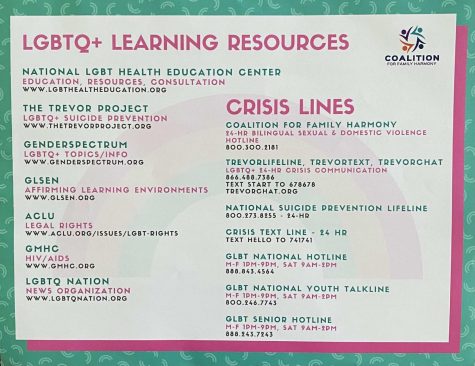 In order to become a member of the GSA, all students have to do is show up to the club. An estimate of 20-30 students attends each week where they introduce themselves and share ideas for how to celebrate pride throughout the whole school. Discussions such as projects for coming out day take place during these meetings as well. 
This kind of community is important for students to feel accepted and to know there are people who support them. A student's home life can be hard and not everyone's gender and sexuality is accepted at home. The club president remains anonymous for that exact reason. The GSA is dedicated to creating a safe haven where students can, "Feel comfortable and safe and like they can just be themselves," according to Mainz. 
The GSA isn't just for people who identify as LGBTQ+. Sexuality and gender-typical people are also welcome. Evelyn Farrell, a  sophomore said, "This club isn't just for gay people, it can also be for allies or people with no labels or anyone who wants to be in this club." 
The GSA accepts all members openly and encourages anyone who is interested to join. Mainz wants students to know that "The club is open to any and everybody." The GSA fights to keep pride alive in the school, and in the process creates an environment of acceptance and belonging.