Mobile filmmaking club joins the scene
Cougard starts club focusing on mobile filmmaking
In the aftermath of club week, a new club has emerged. French teacher Olivier Cougard is sponsoring the Mobile Filmmaking Club, teaching students about taking photos and videos using their smartphones. The Mobile Filmmaking Club takes a journalistic approach to taking media.
Cougard said, "As soon as I found out I would become a French teacher here I was already thinking in my head the skills I would bring to the students here at Ventura High School. I was a journalist for ten years. I knew that I had some life experience and skills to bring to the table."
Cougard worked for years as a reporter after receiving a master's degree in journalism. He has worked in Paris, Rome and Bangkok. He replaced Sebastien DeClerck as the Ventura High French teacher this year. Cougard has recorded and edited his own videos that were posted online. 
Members of the club will take photos and videos using only their phone. Angles and positions will be emphasized. They will also learn video editing and how to interview. Cougard said, "They will learn how to shoot video first and then learn how to edit professional looking videos, with their smartphone. They will also learn how to capture high quality audio."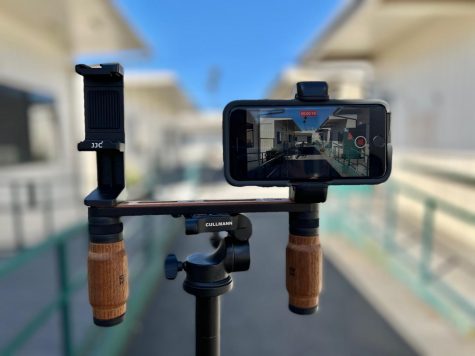 Mobile Filmmaking Club had their first meeting on Sept. 29. "Personally I'm not really into filmmaking but I know there's definitely a group of people at Ventura looking for a club like that, as there's a group of students looking for every sort of club that we offer or don't offer yet, and I encourage anyone to start a club they are passionate about and that they think would captivate the interest of students at Ventura," said senior Wyatt Mojo, co-president of fellow VHS club, Greener World Action Team.
The club was created in early Sept. "I decided to create this club even though it is my first year at Ventura High School. I am very happy that some people have joined this club," Cougard said.
According to Cougard, seven people have joined the club as of Sept. 29. The club meets every Monday after school from 3:30 to 4:30 p.m.