It's the "most wonderful time" of the year
The joyous holidays' effect on VHS students' mental health
The holidays are supposed to be a merry and bright, positive, holly and jolly time and yet 64% of people with mental illness in the US report holidays make their conditions worse, according to a National Alliance of Mental Illness (NAMI) study. 
A Massachusetts woman who partook in the study said, "The holiday season beams a spotlight on everything that is difficult about living with depression… The pressure to be joyful and social is tenfold."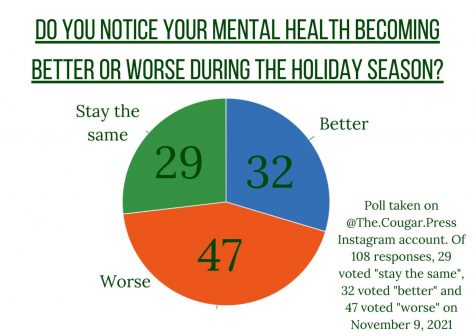 The holidays generally consist of being in large groups, seeing family and friends constantly, traveling, lots of spending money and a big change in routine. These factors play into VHS students' mental health struggles.  In a poll taken from @the.cougar.press Instagram account, students answered the question: "Do you notice your mental health getting better or worse during the holiday season?" 47 people responded that their mental health got worse while 37 said it got better and 29 said it stayed the same.
Poll respondee, junior Lily Carnaghe shared her personal experiences with mental health and the holiday season. She said, "I think my mental health becomes worse for a number of reasons… but the main would be the feeling of isolation from everyone around me." 
Carnaghe continued her personal interview by going into detail with her struggles. She said, "My mental health varies heavily even from week to week and when it gets bad I usually become very unmotivated, whether it's with schoolwork or maintaining friendships and I usually end up isolating myself more which oh look at that is the cause of all my problems in the first place." VUSD winter break during the last two weeks of December can be isolating to those who travel or have a hard time keeping up with friends or family. 
Another interviewee brought up the stress around the holidays, especially with divorced parents, junior Sienna Cherry said, "I always find it stressful trying to figure which house I'm spending the holidays at, and then I feel guilty about not spending time with the other parent which can put a lot of weight on your shoulders." Cherry continued to share some holiday things she enjoys despite the stress. She said, "My favorite part about the holiday season is the cold, Christmas lights, and spending time with my cousins." The holidays are supposed to be such a special time but some factors make it hard. 
Eating disorders are also an issue during the holiday season, Cherry brought this up in her interview, "This time of year can also be difficult for people who struggle with eating disorders, because a large focus is centered around food."
According to Layne Roland, a licensed clinical social worker who specializes in eating disorders, "It's important for people struggling with eating disorders to communicate their needs with family members during the holidays and for family members to be compassionate." From the article "Managing an eating disorder during Thanksgiving" by Matt Houston from WFAB radio station. "Holidays are supposed to be about having fun with your family, making memories, and enjoying each other… Be kind to yourself, knowing that recovery is hard on the loved ones, as well as the person recovering."
 "I just feel like around [the] holiday season most people's mental heaths become worse because there's just so much going on with school and it's just hard to stay on top of it all," said sophomore Zoee Vega. She, among others, voted that her mental health gets worse during the holiday season.
Despite the other interviewees, senior Juan Lemus said that his mental health gets better during the holiday season, "In general, I feel like the holiday season is a great way to end the year and it gives people something to look forward to throughout the year. For me, the holiday season is just enough but I can see why people could think it's too much at times."
"If holidays were a special time in the past and you try to recreate a time long gone, you are setting yourself up for sadness," said an anonymous survey responder. "Create new memories. Have some fun."
Help is ALWAYS an option.
National Suicide Prevention Lifeline, 1-800-273-8255
National Eating Disorder Helpline (800) 931-2237
For immediate help, call 911